4 min read
Best practices for team scheduling scenarios
Rami Goraly
August 29, 2018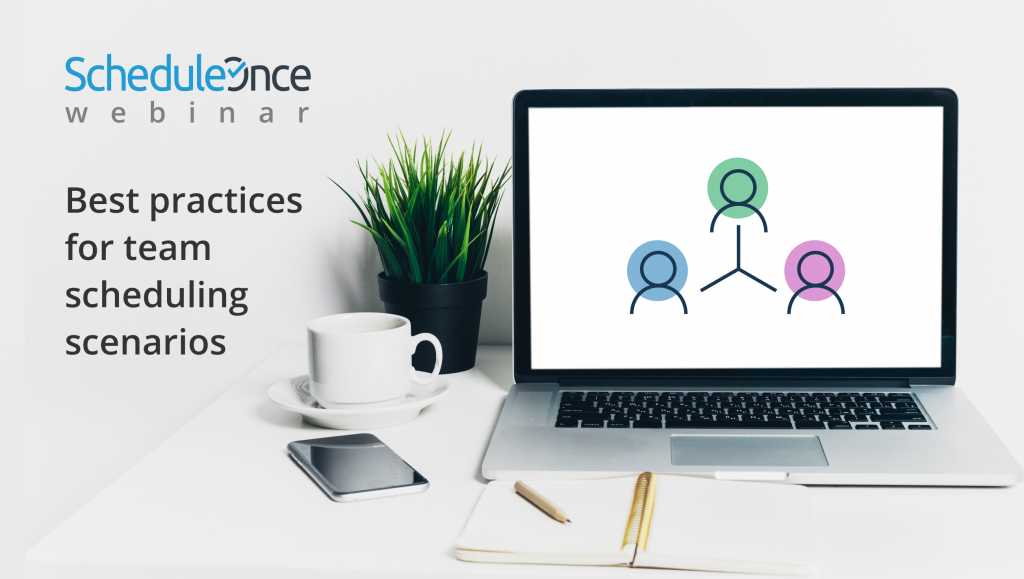 Over the last few years, online scheduling has become a critical component for customer-facing teams.
Setting up online scheduling for multiple teams and team members can be complex, leading managers to ask themselves a few questions: How do I efficiently set up my team members to accept bookings? How can I distribute bookings among team members? How can I provide customers a good experience scheduling with my team? How do I manage bookings that come in and what should I do if there are schedule changes?
Ask no more! ScheduleOnce is designed for team scheduling scenarios and has the answers to your questions.
Get all your team members set up
The first step is to get all your team members set up to accept bookings. This means inviting them to your account and creating booking pages for each one. When you invite users, you can decide whether they will have access to all functions in your account, or only functions that are relevant to them. We recommend limiting your team members' access, which will make it simpler for them to manage their booking page. Once invited, team members can already start accepting bookings. When team members sign in, they should each connect their calendar. Connecting their calendar will allow ScheduleOnce to read busy time and automatically add calendar events for scheduled bookings. Additionally, each team member should connect to the CRM and web conferencing tool your organization is using. This ensures that all bookings made with that team member are automatically updated in your CRM and that web conferencing sessions will be automatically created for their meetings.
Define your organizational scheduling scenarios
Now that all of your team members have their booking pages and integrations set up, it's time to define the scheduling scenarios your organization needs. First, create the event types your organization offers. Each event type can have its own settings. For example, you can create one event type for product demos and another for paid support sessions. Then, group your team members into resource pools. Each pool can have its methods for distributing bookings among team members. Bookings can be assigned via round robin, ensuring an equal distribution. If providing maximum availability to customers is a top priority, pooled availability, or priority-based assignment can be used. Once you've created your event types and resource pools, it's time to combine them into a master page where prospects and customers can schedule with your team members. If your meetings require the participation of multiple subject-matter experts, you can create panel meetings that include specific team members or resource pools.
Ensure a top-notch customer scheduling experience
Once your master page is all set up, you want to get it in front of prospects and customers to start receiving bookings. You can publish the master page on your website to allow visitors to schedule their meetings while browsing. Scheduling can be offered to all website visitors or you can be more selective by offering scheduling only to those who qualify based on web form submission. Additionally, you can share your master page link in personal emails and marketing campaigns. Email recipients can book a time in just a few clicks, without filling in any information your already have. Upon scheduling, prospects and customers will immediately receive a calendar invitation and email confirmation with all meeting details.
Manage your teams' bookings
As a manager, it's important to stay on top of all team members' activities. In the activity stream, you can search and filter through all booking activities. You can locate specific activities via the free text search, and easily view daily meetings, upcoming meetings, and booking requests. You can also create your own filters, which can be saved for easy access. To see real-time booking distribution statistics, check out your resource pool metrics and stats for each team member. If one of your team members in unable to conduct a meeting or if you have a different team member who would be a better fit for a specific customer, you can simply reassign a booking from one team member to another. The relevant team members are instantly notified and the customer experience remains intact.
With these steps, connecting your team with prospects and customers will be easier than ever. Your customer-facing teams will be able to focus on providing your services, rather than scheduling them.
This post is a sneak peek of our webinar: Best practices for team scheduling scenarios. Watch now