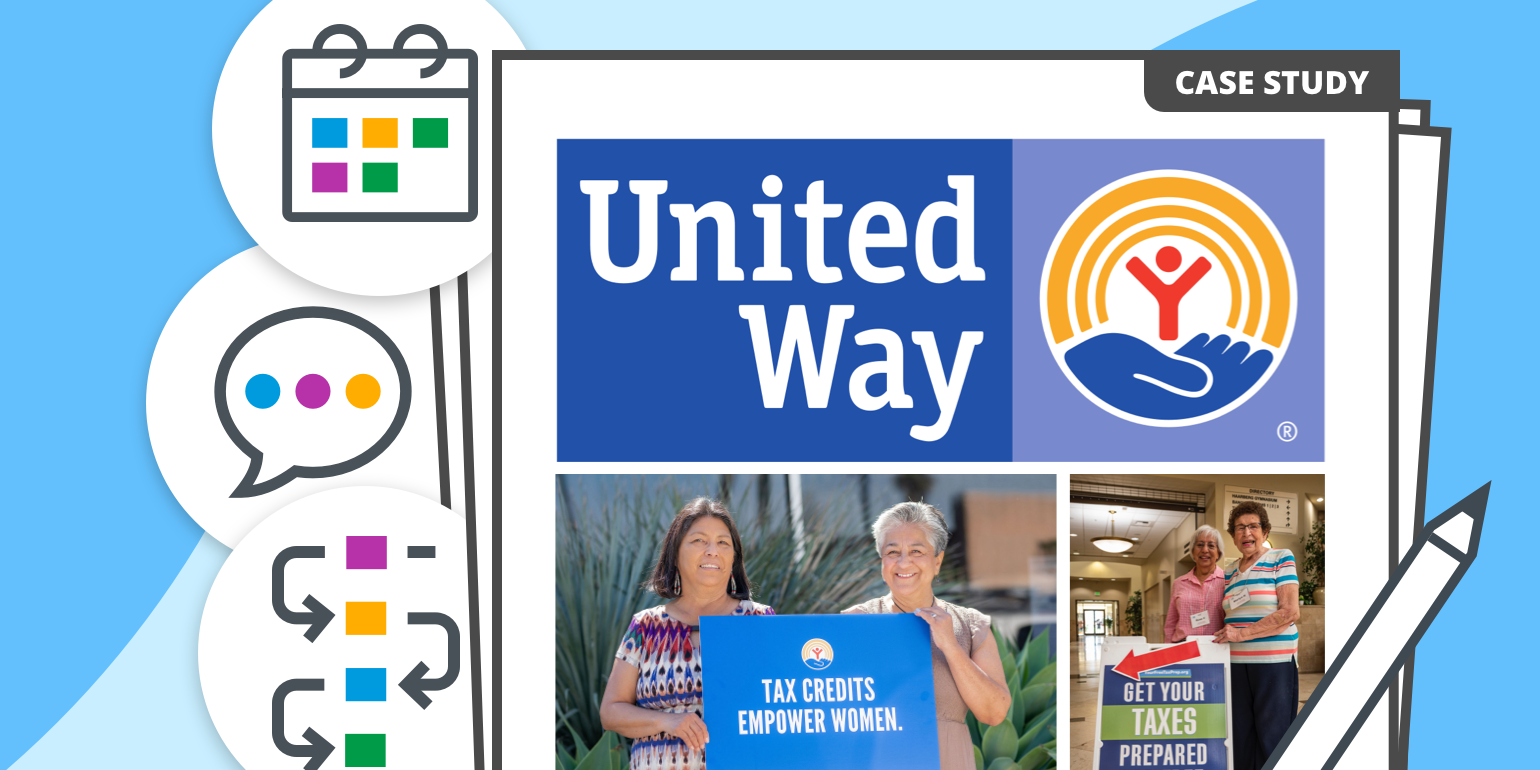 "The less time they have to spend scheduling appointments and rescheduling is more time on the ground actually helping Californians and their communities."
Who are United Ways of California
United Ways of California is an incredible organization that aims to help people out of impoverished situations and alleviate the harsh financial reality many Californians face today.
By helping people with their tax returns and providing them with the information and opportunity to overcome financial hurdles, United Ways is radically changing the lives of people who are without hope and recourse.
We spoke to Mandy Nand of United Ways California to learn how OnceHub enables them to have a greater impact on the communities they support, thanks to the level of customization available and the ability to integrate with their internal systems and processes.
"Taxes aren't sexy and often end up being a process that people dread and fumble," says Nand, "But that doesn't change the fact that it is actually so much more and has the opportunity to help families regain financial footing and get out of poverty.
United Ways' mission is no small feat and their incredible work is not going unnoticed. Last year alone, United Ways of California's network helped save people $27 million by helping them file their taxes for free. OnceHub's system helps clients schedule appointments with a free tax preparer in their community and it's safe to say that we are honored to be a part of their journey.
United Ways deployed OnceHub in November of 2022 and quickly set out to tailor the application to their needs. During the 2023 tax season, they booked 33,000 bookings, and that number continues to grow.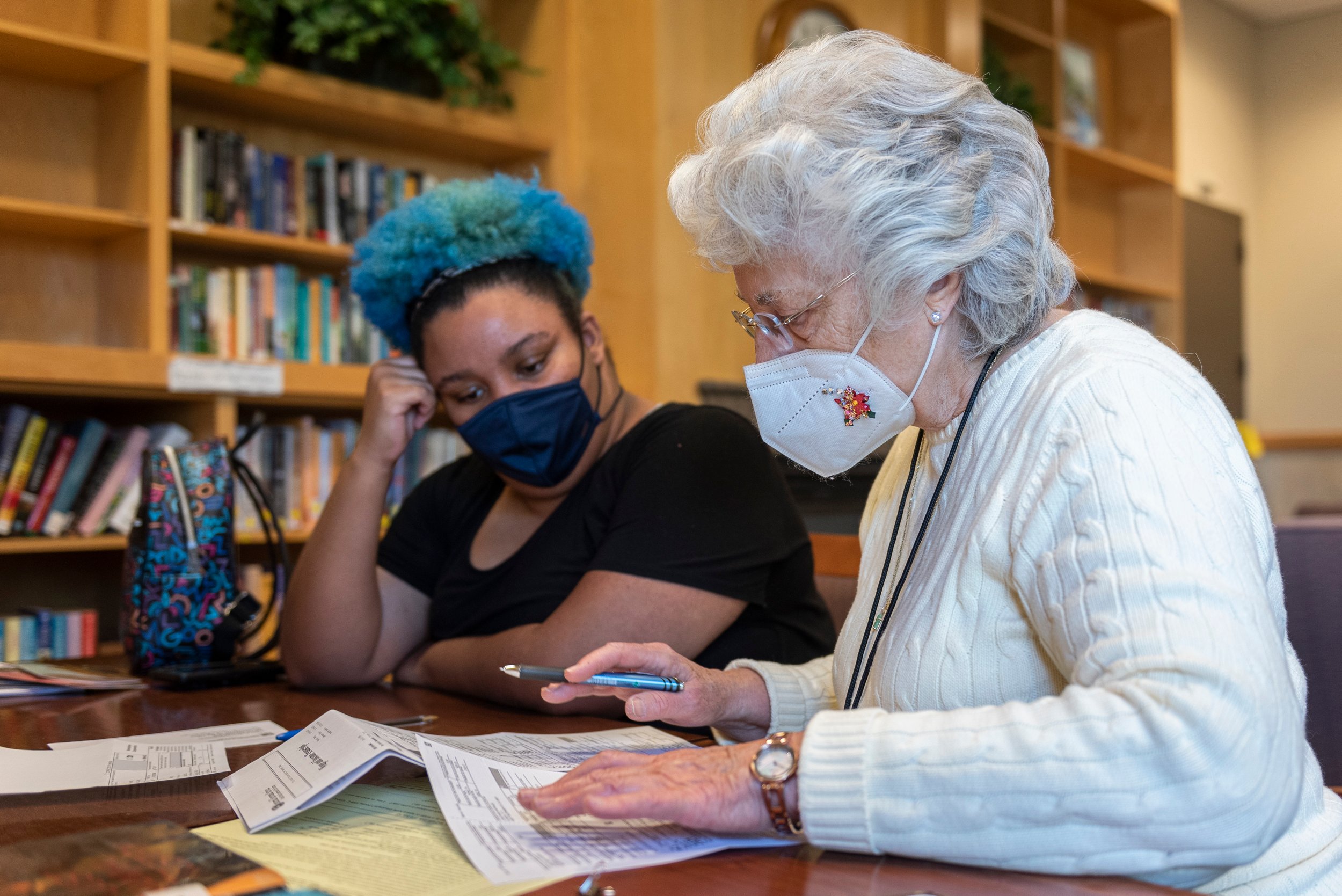 Building Capacity for Growth
The need for United Way's services is growing at an incredible rate, and their hard work is paying off, inspiring people to make use of their services and for others to join their cause. Unfortunately, there is often not enough capacity to meet the large demand.
Expedient growth and fresh success can bring unexpected challenges that need to be dealt with timeously to avoid backlog and bundled operative capacity.
Due to the growing demand for free tax prep, many of these tasks ballooned into massive time drains that risked seriously impeding their mission and pulling valuable focus away from the good work they could be doing. Mandy mentions that United Ways was 'growing like crazy' and it is her job to increase and stabilize their statewide capacity, as the team helps support the entire state of California's efforts and thus needs to be acting in the most optimal way possible, all the time.
"A lot of what I do is create new tools and processes in-house to lighten the workload of our local partners, so they can focus on the actual work," she says. "So for them, work means helping people with filing their taxes and getting them access to their tax credits. Things that can help change their lives. The less time they have to spend scheduling appointments and rescheduling is more time on the ground actually helping Californians and their communities."
Eventually, they wish to implement OnceHub into all of their partner's systems. They had 76,000 appointments in 2022, 17,000 of which came via OnceHub. Nand wants to work towards all bookings coming through OnceHub in the future.
Although United Ways was already using OnceHub as their go-to choice for booking pages, it was not until last year that they moved to a paid plan. They did this in order to utilize more customization features and acquire the assistance of a customer success manager. Mandy credits our customer success manager Retha van Wyk for assisting her with the transition and providing superb support in upskilling the United Ways team to become OnceHub mavens.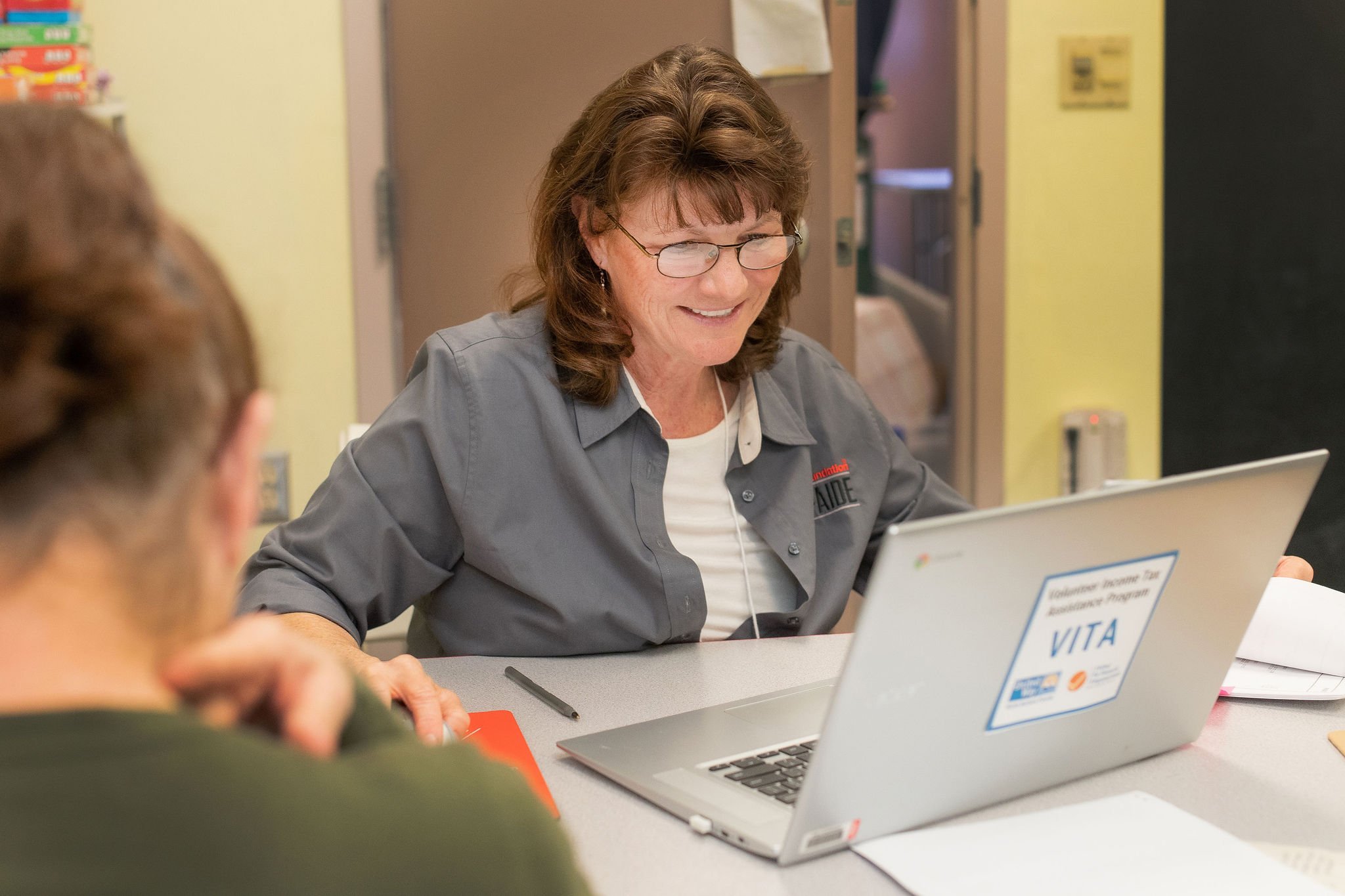 Customizations & Integrations
As United Ways set out to try and relieve some of the growing pains they were experiencing, they tried various processes and software with hopes of arriving at a sustainable solution they could implement and scale.
Before finding value in OnceHub's applications and functionalities, United Ways had been using a different program for years. As Mandy came into the organization and conducted a close inspection of its uses and capabilities, she soon realized that it was simply not going to work and that many of their needs, both new and old, were not being catered to by the software. She said that what they needed was a robust application, not an experience that often felt like trying to hit a square peg in a round hole.
A particularly important aspect of why OnceHub has worked so successfully for United Ways is that we allow for the creation of different meeting types. The United States of America is an incredibly diverse and multicultural place where immigrants flock to forge a new life for themselves and their families. This means that language barriers are a constant obstacle when trying to assist people. By making strategic use of appointment types, United Ways was able to create the infrastructure that allows people to designate their preferred language preferences and acquire aid and assistance in ways that suit them best.
They also translated all of their forms and qualification questions into Spanish.
United Ways also makes extensive use of OnceHub's notification and alert features, using custom templates to send emails and surveys so that they're always maximizing their opportunities and connecting with people in a timely fashion. These features are especially useful when considering the volume of people they work with; sending these messages manually would become a full-time job in and of itself.
Another essential requirement for a scheduling solution was that it could integrate with other systems. United Ways of California built an internal portal that's integrated with OnceHub via Airtable. "We wanted an easier way for partners to manage their clients."
Through the portal, partners can manage their volunteers, manage their hours, have them sign up for a shift, and more. By connecting OnceHub, partners can also access up-to-date information and notes on appointments from one central location that they're already familiar with. They use the portal to access client contact details, view a client's history with them and check on specific needs they might have before they attend an appointment. "One of the biggest perks is the ability for integrations," Mandy tells us.
With so much already achieved, Mandy is still excited about their future use of OnceHub, noting that there's still more for them to benefit from and potentially explore, such as reporting, chatbots, and live chat.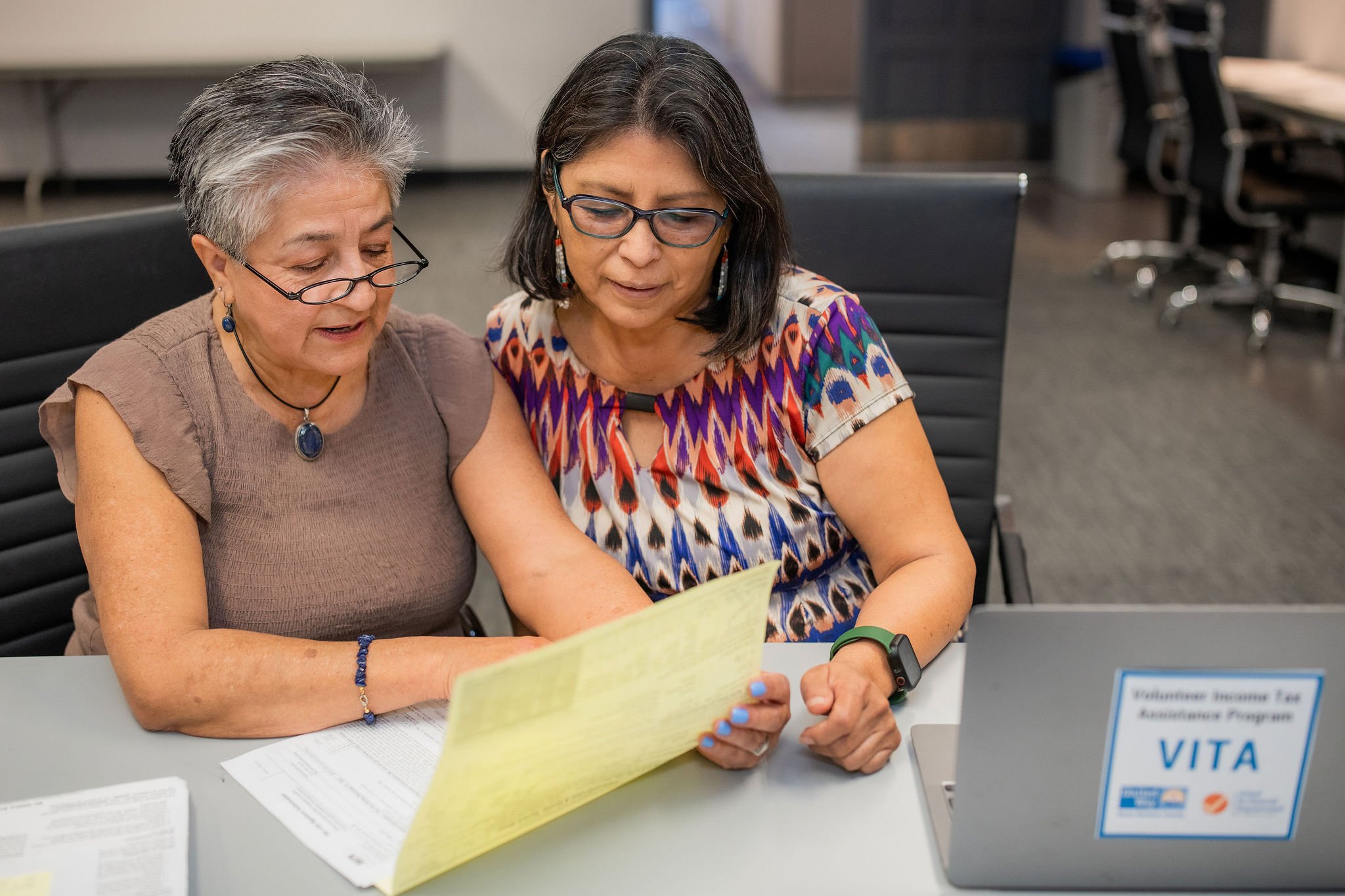 Making an Impact
OnceHub enables United Ways to free up valuable time and resources spent on the back-and-forth of scheduling and other administrative hassles that occur when working at such scale and frequency. Taxation and filing are very time-sensitive processes as it is, and no two cases are intrinsically the same. This invariably means that there is almost always a better way for time to be spent, especially when dealing with complex tasks on a case-by-case basis.
A smooth scheduling process also facilitates meaningful engagements because both parties have all the information they need before an appointment. United Way's primary focus is supporting its clients; OnceHub helps ensure every meeting scheduled has an impact.
One of United Ways' biggest goals is to help Californian taxpayers increase the dollar size of their tax credits. As Nand notes, these credits can be of invaluable assistance in changing the trajectory of someone's life.
In one such case, United Ways helped a single mother who worked full-time as a medical receptionist but still found herself on the wrong side of the dollar and lived in a homeless shelter with her three children. California is fast becoming an incredibly expensive place to live, and there are many families staring down the barrel of similar situations. By tapping into her earned income taxes and assisting her with her financial shortcomings, United Ways Wine Country (who also makes use of OnceHub for their scheduling needs) was able to provide her with a whopping $14 000 in returns. This sum allowed her to launchpad out of poverty and move her and her family into stable housing and create sustainable opportunities for themselves.
By automating some of the more burdensome processes and making expert use of the OnceHub suite, United Ways are able to focus on the things that really matter and entrust OnceHub to do the rest.
Try it Yourself
If you and your team are spending too much precious time on tasks that could be outsourced to automated processes, why not start for free today? Automation and smart scheduling are not about replacing humans but empowering them to do more with their time, and this becomes especially powerful when growth precedes process and a strategically sound solution is required so that your organization can sustain momentum and go on to greater things.
Related topics from Meeting journeys