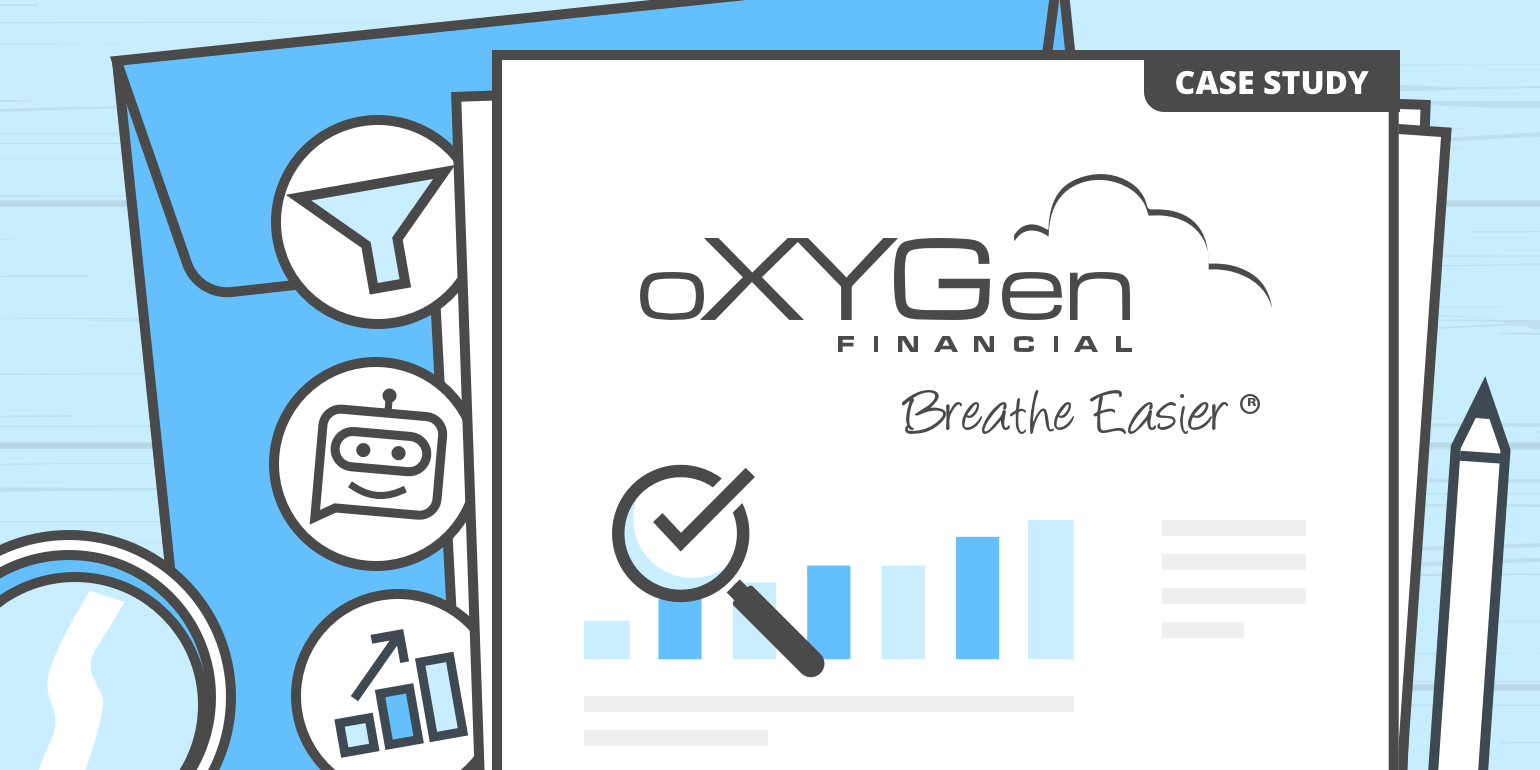 oXYGen Financial are experts in financial advice, wealth management, and insurance for Generation X, Y, & Zers. They take a keen, personal interest in the financial well-being of their clients, with advisors acting as their personal CFOs.
With the financial industry being one of the largest sectors in the US, competition is fierce. Capturing leads through their website is an important part of the business.
oXYGen started by using basic webforms to capture these leads. The process for qualifying and entering them into the system was a manual, and tedious, one. For a small team with specialist financial expertise, this is a waste of important resources.
oXYGen realized they needed something automated, and yet personal. The solution also needed to meet the security and compliance requirements of the finance industry.
Enter ChatOnce
oXYGen Financial were looking to implement a chatbot on their website to support their hands-on approach with clients. They wanted a personalized chat experience for clients on their website. As a small team, live chat support didn't seem the most suitable option.
ChatOnce offered the immediate engagement of live chat, without needing a person, or a team, to be available 24/7. It also integrated perfectly with ScheduleOnce, the scheduling solution oXYGen were already using. ChatOnce qualifies the lead, ScheduleOnce schedules the call, all while the team continues to work. The round robin feature is particularly useful to distribute meetings among the oXYGen advisors.
ChatOnce has been a game-changer for oXYGen Financial. "We were already using ScheduleOnce to schedule meetings," said Rebekah Smith, Branch Development Manager at oXYGen Financial, "ChatOnce makes the process more effective and personal for our customers."
According to Business Insider, 71% of Gen Zers believe brands should help them achieve their personal goals and aspirations. Supported by ChatOnce and ScheduleOnce, oXYGen Financial is able to do that for their clients.
---
Financial advisors tend to spend a lot of time answering calls or emails to answer simple questions. A financial services chatbot can automate these responses, and save ample time. For small financial advisory firms, good customer service can be difficult to maintain. Unfortunately, because of high competition in the industry, customers are likely to go elsewhere if they don't feel their needs are being met. Scheduling chatbots are a great solution to keep customers feeling happy and prioritized.
We've identified four types of chatbot strategies to implement for financial websites.
Informational chatbots


These help you to provide information or guidance to your website visitors.
Lead capture chatbots


These allow you to capture details from visitors who show an interest in your business.
Lead qualification chatbots
These qualify website visitors with a few key questions before inviting them to join a live chat or an instant video/phone call with your team.
Lead engagement chatbots


These invite leads to choose how they engage with your team: a live chat conversation, an instant video/phone call, or a scheduled meeting.
You can use our financial services chatbot templates to personally engage your customers in an interactive way.
Financial chatbots can be a perfect addition to your website experience for customers. All it takes is a bit of planning, fine-tuning, and the right chatbot template to start with. Why not try one now?