7 min read
Lead generation best practices
Eloise Brink
March 22, 2022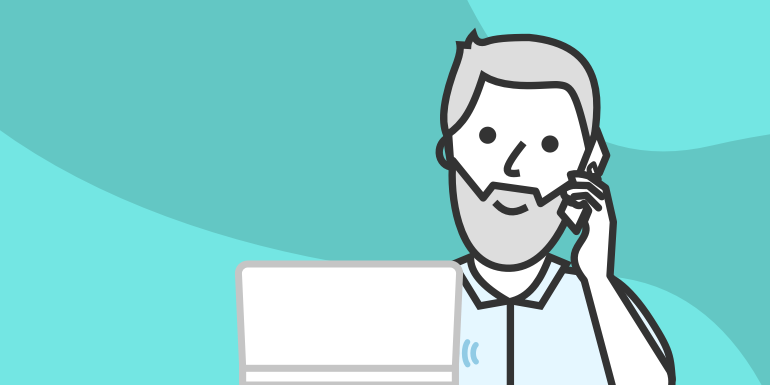 If you're a business owner, you know that lead generation is key to your success. But did you know that there are specific things you can do to improve your lead generation? In this blog post, we'll introduce you to some of the best practices for B2B lead generation. We'll also provide tips on how to make the most of those leads.
Implementing the following B2B lead generation best practices can help you increase your website leads:
Define your goals - Define what a lead is to you. What are the lead quality criteria you're looking for? Then decide what your business goals are in terms of generating leads.
Target the right people - Define your target audience. This can be done by creating buyer personas, which are profiles of your ideal customers based on their demographics, interests, and needs. Creating the right buyer persona is really important. A buyer persona helps you understand your target market's needs and wants. Once you have a clear idea of who you're targeting, you can create content and messages that are more likely to resonate with them. That way you'll land a successful outbound lead generation campaign.
Offer lead incentives - Offer lead magnets like freebies, discounts, or other types of lead incentives to encourage website visitors to provide their contact information. Make sure your incentives are unique and compelling.
Make it easy to contact you - Displaying your contact number makes you seem more trustworthy. Sure, your target audience may not actually contact you. But that's not the main point here.
Search engine optimization (SEO) - This is important because it can help you attract more website visitors, which can lead to more leads. By optimizing your website for SEO, you can increase your rankings in SERPs and get more exposure for your business. Additionally, use SEO-friendly titles, descriptions, and tags for your web pages. This will help you reach more potential customers and generate more leads.
Know which keywords to use - Plan which keywords you want to rank for and use those keywords in your content. Use keyword research to find the right keywords to target. Using a keyword research tool like Google Ads Keyword Planner will help you in this regard. Then optimize your website for those keywords. Optimizing your content and website for keywords will drive customers to your site. Increased traffic should result in increased leads.
Create lead-generating content - Produce valuable content that captures the attention of your audience and encourages them to provide their contact details. Use catchy headlines on your website and for your articles that will stand out. Try to write blog posts that are helpful and educational, and make sure your website's About Us page is up-to-date and informative. You can include a call-to-action (CTA) anywhere in your content. By providing helpful resources, you'll not only attract leads, but you'll also build trust and credibility with them.
Clear CTAs - Use clear and concise CTAs throughout your website. CTAs should be easy to find and use action words that compel people to take action.
Link your CTAs to a landing page - Linking a CTA to your website isn't the most effective way to utilize them as your visitor will land on your website which is intended for exploration. You want them to land on a landing page specifically dedicated to converting them. Because a landing page has a single focus, the chances of conversion are higher.
Use multiple channels - Don't rely on just one method of lead generation. Instead, use a variety of channels to reach your target market. Some popular channels include paid advertising, organic search, social media, and email marketing. By using multiple channels, you'll cast a wider net and increase your chances of generating leads.
Use the right lead generation tools - There are a number of lead generation tools available that can help you attract and convert leads. Some popular tools include LeadPages, HubSpot, and Pardot. One of the most important factors to consider when choosing a lead generation tool is how easy it is to use. You don't want something that's going to be difficult or time-consuming to set up and use. Also factor in your budget when selecting a lead generation tool. Some tools are more expensive than others, so you'll need to weigh the cost against the potential benefits. As your business grows, you'll need a lead generation tool that can grow with you. Make sure the tool you choose has the ability to scale with your needs so you won't outgrow it down the road. By using the right tools, you'll be able to automate your lead generation process and generate more leads in less time.
Reviews and case studies - Add reviews and case studies to your website. This will help potential customers learn about your products and/or services from real people. It will also increase your reliability.
Improve user experience - Ensure that your information architecture is set up in a way that makes your website navigation easy. Use website heat mapping tools to see how users are interacting with your website. Test different versions of your website to see which one has the best user experience.
Test and measure - It's important to track the results of your lead generation efforts so you can see what's working and what's not. This can be done through a variety of methods, such as Google Analytics or CRM software. Use A/B testing to see which lead generation tactics are working best for you and continue to optimize them. By measuring the success of your lead generation campaigns, you'll be able to fine-tune your strategies and improve your chances of generating more leads.
Be flexible - Trial and error is your best approach here. Adapt as you go and be willing to try new things. Being too set in stone will trip you up.
Stay up to date with industry trends - The lead generation landscape is constantly changing, so it's important to stay up to date with the latest trends. This could mean subscribing to industry publications, attending conferences, or participating in online forums and discussions. By keeping tabs on the latest trends, you'll be able to adapt your strategies accordingly and stay ahead of the competition.
Quality over quantity - High-quality leads are gold. Focus on quality over quantity. Your aim is to generate leads that are a good fit for your company. You can implement lead qualification to help you distinguish which of your leads are hot.
Having applied the outbound lead generation best practices above, you're bound to get leads streaming in. Now let's accelerate them through the sales funnel.
Lead acceleration
Lead acceleration is all about eliminating the delays between a visitor arriving on your website and being able to engage with your team. By doing this, you can close deals faster and improve your conversion rate. There are a few key things you can do to accelerate your leads through the sales funnel:
Lead capture
Lead qualification
Lead engagement
Let's take a closer look at each of these three steps:
Lead capture - When you first acquire a lead, you need to get them into your system as quickly as possible. This means capturing their contact information and adding them to your database. You can do this with a lead capture form or chatbot.
Lead qualification - Not all leads are created equal. You need to qualify them to determine if they're a good fit for your products or services. This involves asking the right questions and determining if there's a fit. Using a form or chatbot is an easy way to automate your lead qualification.
Lead engagement - Once you've qualified a lead, you need to engage them in order to close the deal. This means reaching out to them and engaging them in conversation. Once again, forms and bots can help you here. Else you can pursue the traditional methods like scheduled meetings, email or phone calls.
By following these lead acceleration strategies, you'll be able to move leads through the sales funnel faster and increase your conversion rate. But aiming to generate leads and get them through the sales funnel as quickly as possible shouldn't be your only objective. Lead nurturing should also be your prerogative. More on lead nurturing below.
Lead nurturing
Lead nurturing is one of the most important (and often overlooked) aspects of a sales funnel and should form part of your sales funnel best practices. By nurturing leads, you're increasing the chances that they'll eventually convert into customers. Lead nurturing is the process of developing relationships with prospects over time. Lead nurturing can be done through continued communication and engagement, such as email marketing or retargeting ads. By nurturing your leads, you can turn them into customers who are more likely to purchase from you in the future.
The approach you take to lead nurturing will depend on your business and what type of leads you're dealing with. But some common lead nurturing techniques include:
Building relationships: The most important part of lead nurturing is building relationships with leads. By reaching out and engaging with them on a personal level, you're increasing the chances that they'll eventually convert into customers.
Sending targeted content: When you send targeted content to leads, you're providing them with information that's relevant to their interests. This helps them get to know you better and builds trust. As they become more familiar with your company, they're more likely to convert into customers.
Offering helpful resources: Another way to nurture leads is by offering them helpful resources. This could include e-books, whitepapers, templates, or other helpful content.
Conducting webinars: Webinars are a great way to connect with leads and help them learn more about your products or services.
There are many other ways to nurture leads, but these are some of the most common methods. It's important to experiment until you find the approach that works best for you and your business.
Conclusion
In conclusion, lead generation is a key component of any successful business. By employing the best practices for lead generation, you can attract more prospects. By implementing lead acceleration and lead nurturing, you'll increase your chances of converting your leads into customers. Stay tuned for our next article post, where we'll discuss how to create a sales funnel that generates leads.
Learn more about what we do at OnceHub here.