If you ever get stuck, check out our Help Center, or reach out to our customer success team by email or live chat.
Let's look at the impactful ways automated chatbots can maximize the lead capture potential of your existing website traffic, qualify leads, and ensure your team speaks to leads sooner.
1. Capture more of the right leads
Whether your website has tens of visitors a week, or millions per day, one thing is common - the need to optimize the number of leads captured. OnceHub's chatbots have built-in targeting and automated qualification to increase the value of your virtual footfall.
Use targeted chatbots across your website to reach out to leads coming from a paid campaign, specific regions and more.

Use standalone bots to create conversational landing pages for campaigns by simply sharing your chatbot with a link. These are great to immediately capture leads and instantly engage with buyers.

Use pop-up bots to give visitors the option to open and interact on specific pages, by clicking on a button or a link within your content.

Use automated screening questions in all bot types to qualify the most valuable leads, while capturing details and automating FAQs for lower scoring leads.

2. Spend less time on the wrong leads
It would be wonderful if every website visitor fit the profile of your ideal customer. While chatbots can't change that, they can ensure that only target buyers are fast-tracked to your team.
Instead of capturing all leads, use targeted chatbots to prevent capturing leads that aren't of value. This removes the need to manually sift through them all later.
Use chatbots to ask screening questions. Define rules that send lower value leads to marketing, while high value leads are immediately connected with your sales team.
3. Speak to the right leads sooner
Chatbots use targeting and screening questions defined by you, to accelerate the right leads through the funnel. Once a visitor meets your criteria, they can engage with your sales team.
Instantly offer qualified leads a live chat with a sales agent. You might speak to them before your competitors have even opened an email enquiry.

Quickly switch from a live chat to an instant meeting to take things to the next level. Share your screen, connect on video and more.

Use scheduled meetings to ensure you get time on a lead's calendar, even when no agents are available.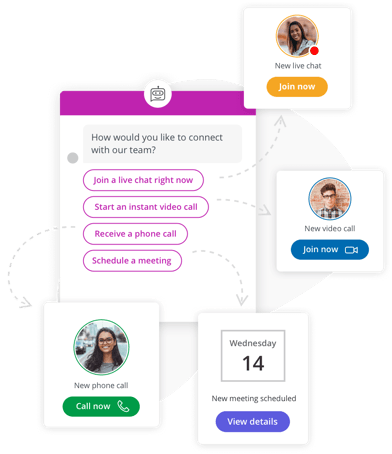 Remember, research shows that 78% of customers buy from the company that responds first. So don't keep your leads waiting!
Helpful links to continue learning
Did you know?
A user license for live chat, instant meetings, or scheduled meetings works across all our products. You don't have to pay extra to use each product!
Related topics from automated chatbots