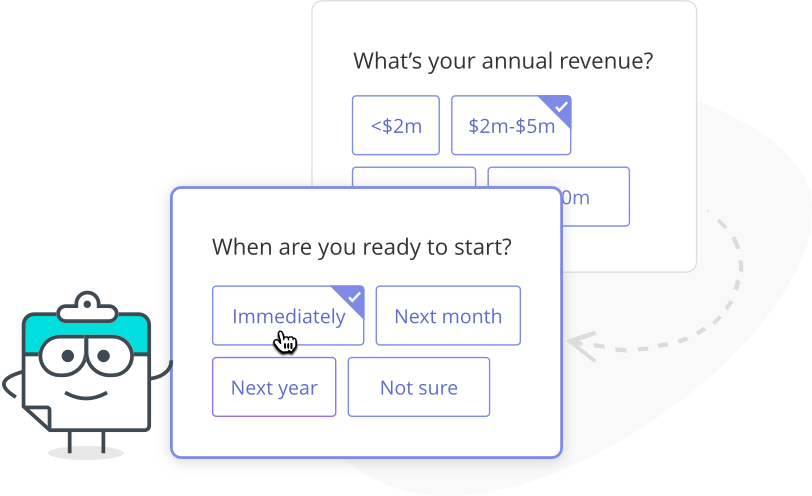 If you ever get stuck, check out our Help Center, or reach out to our customer success team by email or live chat.
Have you ever submitted a form only to wait days for a response? That's a common experience for leads - and that's for the ones who hear back at all. For businesses, the challenge is clear.
🤯 Contact and demo form submissions are dumped into one inbox, CRM or database.
⏲️ It takes time for someone to check which should be prioritized.
🤦‍♀️ The query is manually assigned to the relevant sales agent.
🙏 Finally, revenue operations leaders simply hope an agent responds quickly!
Thankfully, there's a more practical solution. Automated forms provide a great way to reduce time to engagement. They can capture and qualify leads as they complete the form, as well as instantly offering engagement.
1. Capture and qualify leads dynamically
With OnceHub, you can build automated forms that are smart and conversational. They not only capture lead details, but qualify visitors as they answer questions. In practice, this means your forms will ask visitors just one question at a time. Based on their response, visitors are routed to different follow up questions that you define.

Let's look at an example:
Build a form that asks a visitor to select their company size, eg 1-100, 101-500 and 500+ employees.
Add conditional routing to this question, so that if they select 500+ employees, they're offered live chat or a scheduled meeting.
For responses of 101-500 employees, immediately offer them live chat with your SDRs.
Route responses of 1-100 to email capture, and a message telling them you'll be in touch.
In this way, your sales team can immediately engage with high value leads. SDRs can engage with medium value leads, and your marketing team can add low value leads to a marketing list. No more overflowing inbox and no more sorting submissions manually.



2. Engage with leads directly from your form
Now that your form has already captured and qualified some leads, let's look at how quickly your sales team will be able to speak to them.
Offer live chat to qualified leads instantly to dramatically reduce speed to lead

Offer instant meetings to jump on a quick call or allow agents to share their screen

Offer a scheduled meeting to give leads more control on when suits them to talk
Managing resources for who takes live chats and meetings is also streamlined. You can:
Create teams so the right leads go to the right people

Distribute leads between members of a team so opportunity is split as needed

Connect team members' calendars so they're never double-booked

And automate agent availability to account for their working hours
Considering 78% of customers buy from the company that responds first, smarter forms are something every business can benefit from. If you need to continue using your existing webforms, there's still a way to make them smart. Learn more about our webform plug-in
Helpful links to continue learning
Did you know?
A user license for live chat, instant meetings, or scheduled meetings works across all our products. You don't have to pay extra to use each product!