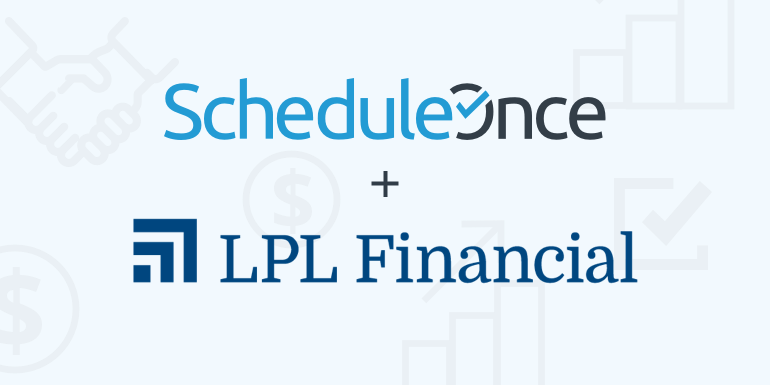 FOR IMMEDIATE RELEASE
July 13, 2020, OnceHub, a leading provider of smart scheduling solutions, today announced that ScheduleOnce, its enterprise scheduling solution, has been selected for inclusion in LPL Financial's Vendor Affinity Program.
It is the first compliant scheduling solution approved for use by LPL-affiliated clients, including more than 16,000 financial advisors and RIAs, and nearly 800 institutional clients.
LPL's Vendor Affinity Program is designed to help advisors reduce the complexity and costs of running their businesses, curating a network of third-party vendors that have agreed to provide their products and services to LPL advisors at discounted prices. Vendors are selected for inclusion in the program based on advisor demand and their ease of doing business with LPL advisors and have met certain security and compliance requirements.
ScheduleOnce's flexible and accessible scheduling solution makes it easy for clients and prospects to book face-to-face, telephonic or virtual meetings, ensuring that financial advisors can continue to offer a seamless experience and professional service to their customers in these difficult times.
ScheduleOnce eliminates the back and forth when scheduling meetings by giving clients access to advisors' available time through an advisor-branded booking page. Clients can then choose a meeting time and format, saving clients and advisors time and money. ScheduleOnce automatically sends confirmations and reminders, keeping everyone up-to-date with any cancellations or rescheduled meetings.
The solution provides scheduling flexibility that allows financial advisors to create any type of meeting scenario they need. Options include group sessions with multiple attendees, resource pools that automatically assign an available financial advisor to a meeting, and panel meetings with more than one available advisor present. Additionally, ScheduleOnce's comprehensive privacy and security standards and features work to ensure that advisors remain compliant with industry regulations.
"Now more than ever, it is important for our clients to have access to capabilities to be able to manage their businesses more efficiently and to enhance the digital service experience they provide to their clients," said Rob Pettman, LPL Financial executive vice president, Products and Platforms. "In listening to LPL advisors, we recognize the value that a scheduling tool can bring to their business operations. With OnceHub, our advisors now have a compliant solution that makes it easy for their clients and prospects to book appointments and customize the format of their meetings. Even more important, given today's remote working environment, advisors have a broader set of capabilities to be able to productively operate a digital office."
"We are delighted to partner with the great team at LPL to help them deliver leading-edge solutions to their vast network of independent advisors," says Lewis McMahon, Global Director of Customer Success at OnceHub. "We look forward to a long-lasting partnership as we continue to innovate and enable businesses to thrive in this changing world."
About OnceHub: Since 2011, OnceHub has powered organizations with smart scheduling solutions that shorten time-to-engagement in all phases of the customer life cycle. Our scheduling software seamlessly integrates into your existing business processes and customer touch points, allowing you to connect easily with prospects and customers, ultimately leading to higher conversion rates and improved customer satisfaction.
For complete information, visit: https://www.oncehub.com
Media Contact:
OnceHub
Attn: Media Relations
340 S. Lemon Ave. #5585
Walnut, CA
+1.650.206.5585 / US toll-free: 800.505.5257
Related topics from News