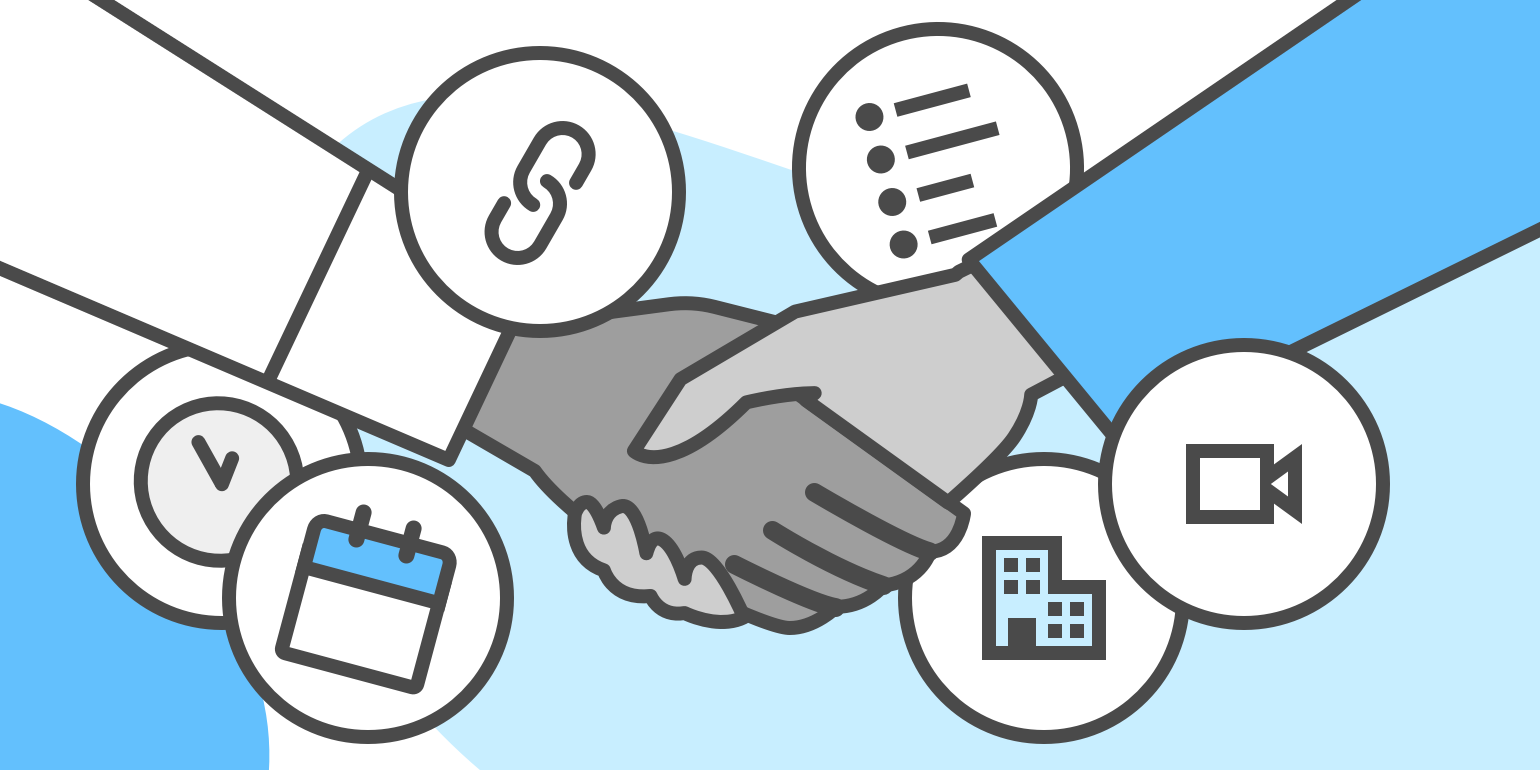 How to share a meeting link
There's still some ambiguity around the humble meeting link. Professionals who were conducting business engagements before the digital boom might wonder if sending a meeting link or calendar invite should happen after an initial phone call. Digital natives might wonder if there is value in having a bit of email back and forth before hitting send on the request. As with most things, there is no one right way to book and request time with people, but with these tips you might be able to get some clarity on finding a way that best suits you and your needs.
Things to consider when sending meeting links
Firstly, when firing off invites it is always important to first consider the intention behind doing so in the first place. What are you trying to achieve with the scheduled meeting and what is your desired outcome? These are important questions to ask yourself and can be of great assistance in motivating the style, tone, urgency and contents of your scheduled meeting links.
Ask yourself about the nature of your relationship with the customer you are intending to meet with. Is it a first time, introductory engagement or are you scheduling time with a recurring customer? Knowing what to prepare for when it comes to the scheduled meeting at hand can also help you curate the contents of your invite so that both parties are made aware of expectations and provided with critical information before the video call even starts.
Another handy tool in your arsenal is taking a less obvious approach to bookings and calendar requests. When sending an invite, we assume that there will be some sort of digital calendar link being sent along with a link to video conferencing. This perception of the meeting link is basically de rigueur at this point, but it doesn't necessarily have to be.
We have a wealth of options available to us to ensure that we are communicating with prospects in a way that feels natural and relevant to our own brands and processes. Take our tool Pages, for example. Here you can create a page that is uniquely your own and consolidate many of your digital administrations and automations in one place, acting almost like a shopfront for your engagements and prospects.
You can create a chatbot that fields incoming traffic and routes prospects accordingly and sends people to your booking page when appropriate. In doing so, you're also gathering important information to make sure you're getting off on the right foot and making the most of the time you're scheduling with someone.
Important tips for your next meeting invite
Personalize all of your meeting communications in meeting invite
Personalizing meeting invitations and links are your best friend when trying to catch someone's attention and ensure a response. Firstly, it helps to establish a professional relationship with the invitee by showing that you have taken the time to consider their interests and needs. Personalized meeting invites can also increase the chances of attendance as personalized invitations are more likely to grab the attention of the recipient and make them feel valued. They can set the tone for the meeting and give the invitee an idea of what to expect. Perhaps most importantly, it can help to avoid confusion and ensure that the invitee knows exactly what the meeting is about, its purpose, and its expected outcomes.
Send meeting requests, links and invites way in advance
Sending meeting requests well in advance is really best practice at this point and no one needs to be sent an urgent request at the eleventh hour in today's day and age. Sending meeting invites with a generous time buffer allows attendees to schedule the meeting into their calendars and make any necessary arrangements to attend, such as rescheduling other appointments or delegating tasks to colleagues. It also provides sufficient time for attendees to prepare for the meeting by reviewing relevant materials, researching topics, and formulating questions. Doing so shows respect for attendees' time and schedules, which can help to build trust and strengthen professional relationships. Providing preparation time can also help to ensure that everyone is on the same page and that the meeting runs smoothly without any last-minute changes or cancellations.
Provide options for alternative meeting times and links
Including alternative times and options when sending out your invites is always a good idea. Mainly, it demonstrates flexibility and consideration for attendees' schedules, which can increase the likelihood of attendance and engagement. It also provides options for attendees who may have conflicts or other commitments during the original proposed time. Offering alternative times and options can help to ensure that the meeting can proceed even if some attendees are unable to make the original proposed time. Being flexible can help to avoid the back-and-forth of scheduling conflicts and make the meeting planning process more efficient. Providing workable alternatives can promote inclusivity by accommodating attendees from different time zones or with different scheduling needs. In short, including alternative times and options when sending meeting requests shows consideration, flexibility, and efficiency, ultimately leading to more productive and successful scheduled meetings.
There is nothing quite like starting off a meeting with some technical difficulties and these experiences only prove that using reliable software is an absolute must. Doing so ensures that the meeting runs smoothly without any technical issues or interruptions, which can lead to frustration, wasted time, and decreased productivity. Reliable meeting software provides a secure and stable platform for attendees to communicate and share information, which is especially important when discussing confidential or sensitive topics. Also, reliable meeting software usually offers features such as screen sharing, virtual whiteboards, and chat functions that can enhance communication and collaboration. All in all, it can help to ensure that all attendees can access the meeting, regardless of their location or device. Using reliable meeting software can create a more positive impression and improve the overall professionalism and effectiveness of the meeting, and who doesn't want that!
Be as polite when sending meeting links as you would be in person
Chivalry might be dead, but politeness is always in style. Firstly, it sets the tone for the meeting and establishes a positive and respectful atmosphere. Politeness shows that you value the attendees' time and contributions and that you take the meeting seriously. Being polite in a meeting invite can promote engagement and participation by making attendees feel comfortable and welcomed. It can also help to avoid misunderstandings or conflicts by clearly communicating expectations and goals in a courteous manner. If you think about it, being polite in a meeting invite can enhance your professional reputation and build trust and rapport with attendees.
Make sure your follow up emails are bulletproof
Follow up emails should be sent promptly after the meeting, ideally within 24-48 hours. This ensures that attendees have a clear recollection of what was discussed and can start taking action on any assigned tasks. Follow-up emails should be concise and to the point, focusing on the key takeaways and action items discussed during the meeting. This helps to prevent information overload and makes it easier for attendees to digest and act upon the information provided. It's important to ensure that follow-up emails are clear and easy to understand, using simple language and avoiding technical jargon or complex terms that could confuse or alienate attendees. Follow-up emails should include any relevant attachments or resources that were discussed during the meeting, such as presentations, reports, or additional information.
Use OnceHub for sharing meeting links and invitations
If you need some help with managing your meetings and professional engagements, OnceHub is a popular online scheduling tool that can help businesses and individuals streamline their booking process by sending meeting links and invitations. Here's why:
Easy to Use:
OnceHub is a user-friendly platform that allows customers to quickly and easily book appointments without any confusion or hassle.
24/7 Availability:
With OnceHub, you can offer your clients meeting links to your booking page and the convenience of booking at any time, day or night, which can increase the chances of them booking with you in the first place.
Customization:
OnceHub allows you to customize your booking page with your logo, brand colors, and other personalized features to make it look professional and unique to your business. You worked hard on your brand so be sure to always pull the focus to it. While you're at it, personalize your meeting links and invites to also reflect your style.
Integration:
OnceHub integrates with popular calendar and email services, such as Google Calendar, Outlook, and iCal, which can help you manage your schedule and meeting links more efficiently.
Automated Reminders:
OnceHub can send automated reminders to both you and your clients, reducing the risk of missed appointments. Notifications are a game changer for the booked and busy and if you get and set a lot of meeting links, you'll thank us later!
Payment Integration:
OnceHub offers a variety of payment options, including PayPal and Stripe, which can simplify the payment process for both you and your clients.
Analytics:
OnceHub provides detailed analytics and reporting tools, which can help you track your business's booking activity, identify trends, and make informed decisions to improve your scheduling process. This helps you gauge what your next round of meeting links should be about and who to send them to.
In short, OnceHub can help you and your business save time and increase efficiency by streamlining the booking process while also providing a convenient and professional experience for your clients. It also takes away a lot the manual workload of data capture, finding a mutually suitable time and ensuring someone schedules with the right person - or whether they even should be scheduling with anyone.