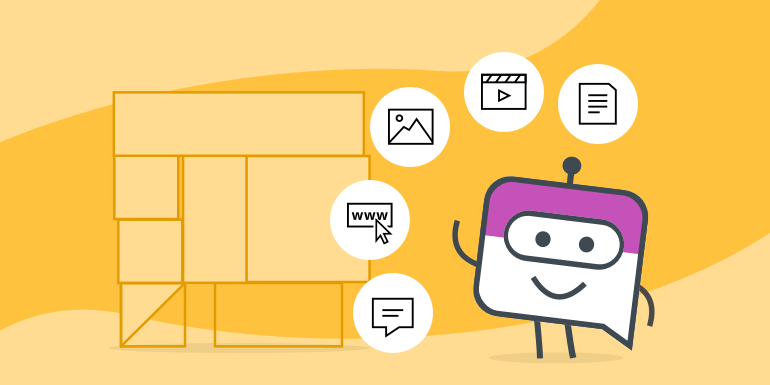 ChatOnce is part of OnceHub's lead acceleration platform. If you're looking to convert leads more quickly, then you've come to the right place!
Creating a smart chatbot to capture, qualify and engage with leads is very simple. Once you've planned what to say and ask, building your bot will only take a few minutes.
There are three types of building blocks, or interactions, that you can drag into your chatbot builder:
Chatbot questions allow you to find out more about your website visitors. For example, you could ask qualifying questions about their team size, financial needs, or personal goals.
Chatbot messages allow you to share links, documents, images, and videos with your website visitors. For example, you could share an ebook or video when a lead provides you with their details.
Chatbot actions allow you to connect website visitors with your team. For example, you could invite qualified leads to chat live with your team or schedule a meeting. You can also use actions to send internal email alerts or update your CRM.
In this article we will help you understand what chatbot messages are and when to use them.
What are chatbot messages?
Well crafted messages help the conversation with your bot feel natural. You can add the following type of messages to your bot builder:
Text messages
URL
Image
Video
Document
A Text message lets you display a message to the visitor. They don't need to respond for the bot to continue its conversation. That being said, try not to overwhelm your visitors with too many messages in one go. A well-designed chatbot is a two-way conversation. Besides, no one likes a chatbot that talks too much!
A URL displays a link to a website the visitor can click on. Perhaps you are directing them to another page on your website like your pricing page.
Image lets you display an image that the visitor can view.
If you upload a Video, your visitor can watch it inside the bot widget. This is useful if you'd like to share explanatory or instructional videos for example.
If you upload a Document, the visitor can download it from the bot widget. You might have a playbook or a case study you'd like to share.
If you'd like to see ChatOnce in action, why not check out our range of ready-to-go chatbot templates?
Why should you use chatbot messages?
Messages help you keep your interactions conversational, preventing the visitor from feeling like they're filling out a form. It can also raise the visitor's engagement in the conversation.
How do I get started with ChatOnce?
If you're new to OnceHub, you can get started with a free Starter account. It's completely free for 3 users and also includes access to ScheduleOnce and FormOnce.
If you're an existing OnceHub user, you don't need to pay extra to start using ChatOnce! Your existing user licenses for live chat, instant meetings, or scheduled meetings will work across all our products. Why not get started with one of our ready-to-go templates?


Related topics from automated chatbots