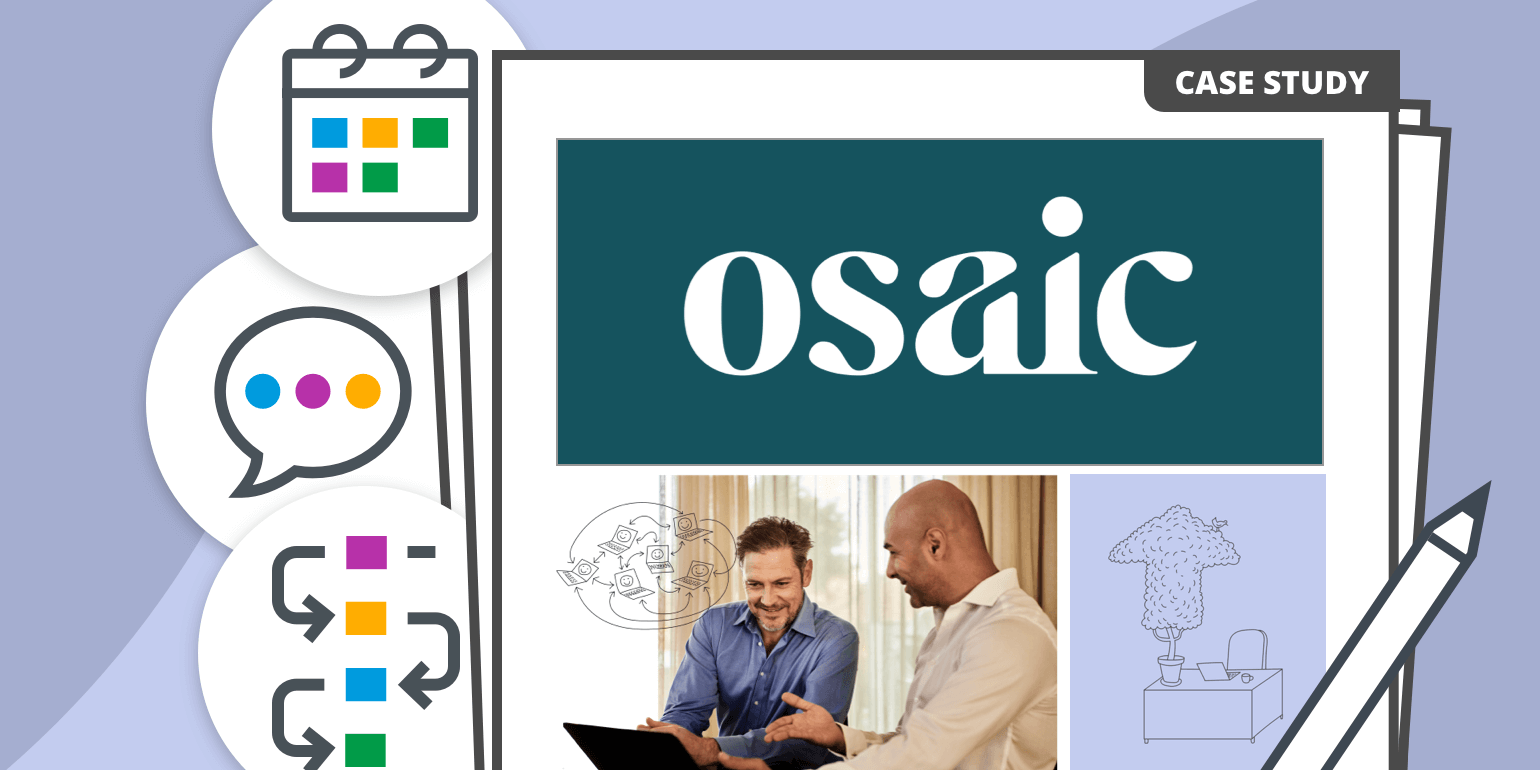 What Osaic is all about
Osaic is one of the largest networks of independent financial advisors in the United States and has cultivated entrepreneurship and independence for over 30 years. They've helped countless advisors fulfill their clients' financial goals. With over 2,300 employees, they support more than 11,000 financial professionals, oversee over $500 billion in client assets, and continue to grow.
We recently spoke to Jeff Sietstra, VP of Business Coaching & Consulting, to learn about their experience with OnceHub.
Sietstra and his team directly support advisors with one-to-one coaching and consulting, but they used to spend a lot of time manually scheduling monthly meetings. "We knew there had to be a better way," Jeff told us. "We're a business coaching team, and one thing that would come up often is the discussion of organization and efficiency."
While Osaic first attempted using a calendar-oriented competitor, they found it lacking when it came to group and pooled collaboration. Calls from advisors needed to be distributed across a group of consultants, so flexible team scheduling was essential.
Since starting out with OnceHub in 2017, Osaic has rolled out the software to more people in the organization, consolidated multiple accounts, and continues to recommend it to the financial professionals they support. OnceHub has saved them countless hours of manual work, helped them increase the number of meaningful engagements they have, and reduced no-shows.
"It made it a lot easier for a financial professional to just be able to click a link on their own time and schedule it rather than having to pick up the phone or write an email. It definitely increased the number of engagements that we were able to do."
Osaic's biggest wins with OnceHub
Increased productivity for Osaic Group
Osaic discovered OnceHub in 2017 when looking for tools that could assist in their Open Office Hours initiative. The business coaching team would email advisors each month, offering time slots where they could get help in solving problems in their businesses.
"We originally just used a survey, which would ping us with an email. We'd set up the time they requested and send them a meeting invite manually. So, we'd have to do this for 20-30 meetings a month," said Sietstra.
Sietstra described the alternative they envisioned: "We wanted people to click a link, schedule a call, and have it end up on our calendars." They got this and more from OnceHub.
Before implementing OnceHub, a big challenge was trying to nail down when a meeting would take place. "The time spent on back-and-forth communications was the biggest problem. Calling, trading voicemails, or sending multiple emails about finding time to schedule a meeting was exhausting. Removing that was the biggest win for us."
Moreover, Osaic found the software so helpful that they soon began using it for more than just their monthly office hours. They leveraged it to arrange meetings at conferences and other live, in-person events.
Sietstra also commented on how beneficial it has been to their advisors. "Twice a year, financial advisors will do what they call 'surge meetings.' Instead of meeting with a couple of clients each week throughout the year, they'll say, 'For these two or three weeks, we're gonna do all of our clients.'" OnceHub enables firms to do this easily and efficiently.
While the pandemic negatively impacted a lot of businesses, advisors continued to benefit from OnceHub by meeting with clients virtually. "The pandemic changed a lot for advisors. They're doing more virtual meetings, so I love the connectivity where it automatically sets up a Zoom meeting. For those who aren't doing Zoom meetings, I really encourage them to change their profiles and set it up so it's automatic."
Compliance and regulatory adherence
Sietstra says the biggest challenge in their industry is how highly regulated it is." Whether it's new regulations coming out of Washington or something else, cyber security is a big deal in financial services."
OnceHub's capabilities in this area were a key factor in their selection process. "OnceHub has gone through the due diligence and the process of ensuring data is secure. Some firms won't even go down that path."
Excellent customer support
While only some require support, having this available to them as part of their Enterprise plan has been beneficial.
"When people log in and set it up the first time, it's unlikely they'll have to go back to it any time soon again," he said. This essentially means that they can make successful use of their calendar booking infrastructure in perpetuity and pay little to no attention to the minutiae of scheduling thanks to automated notifications, conferencing links, and calendar events.
Sietstra became a subject matter expert on using the platform and helped others. With the Enterprise license, however, Osaic could also work with OnceHub's customer success managers and support team to resolve any issues that did arise.
Due to a wealth of resources and help documentation made available by OnceHub, Osaic also uses and shares these internally.
The road ahead
From Sietstra's point of view, the greatest results have been time saved, increased engagements, and reduced no-shows. This is mainly due to what Sietstra calls "the connectivity" of the platform.
Calendars are integrated and meetings automatically added to them. Video conferencing software is integrated, and meeting links are automatically created. Notifications are automatically sent, by email and SMS to client and coach. The magic is that it all leads to real, meaningful connections.
"These meetings are valuable not only because you help solve a problem or a need right now, but you're often uncovering more. They lead to ongoing conversations, follow-ups, and engagements."
While automation is all about reducing the need for human interaction in processes, OnceHub has allowed Osaic to spend more time actually engaging in conversations than planning them. This lets Sietstra's team do what they do best – coaching, consulting, and building strong relationships with their clients.
If your organization would also benefit from a more streamlined approach to engagements, reach out or create your free account today.