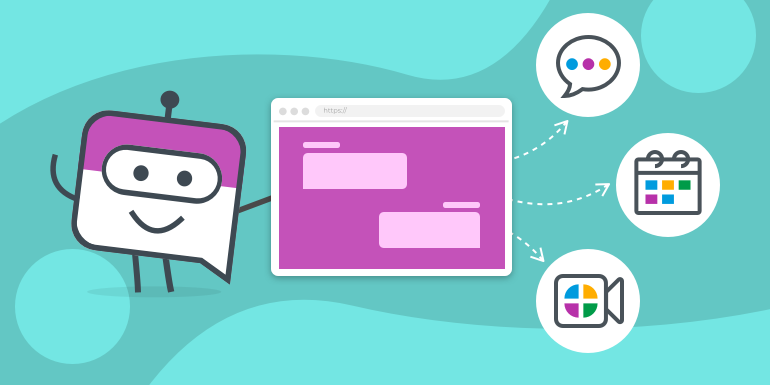 If you're reading this, it stands to reason that you've been made aware of the advantages of setting up a bot and you're keen to see how it could potentially work in your own favor.
Standalone chatbot landing page campaign
Landing pages have become so much more than a simple mechanism to capture email addresses and can go a long way as both an exercise in branding and as a means to add context to new site visitors so you can better assist them later on.
While our landing page chatbots might not boast cutting edge artificial intelligence, they do offer you the chance to create a customized means of communication and assist you with conversational marketing that is anything but one note.
A dynamic and engaging landing page has many benefits in addition to being a great way to present you and your brand to the world. With the addition of a well-configured bot, you can outsource a lot of the administrative hassle that comes from setting up your opportunities to a nifty little bot helper of your own making.
Let's take a look at some of the ways OnceHub's standalone chatbots can upgrade your campaigns, websites and landing pages:
Automated lead qualification and routing with landing page chatbots
Let your bot ask qualifying questions that help you know what resources to allocate and who should do so. So much of the lead generation process results in wasted time and opportunities, so by putting your best bot forward and allowing the introduction phase to double up as a filter, you can ensure that the right people are met at the right time.
This way, your sales team won't waste their time on cold or unqualified leads and you can fast track your acquisition process by prioritizing quality prospects. Talk about speed to lead!
Instant lead engagement with standalone landing page chatbots
Having the insight about when to meet now versus when to meet later can be a game-changer in your sales process as first impressions really matter and if you're feeling the pinch of the daily grind, it would make sense that your clients do too.
With your standalone chatbot, you can put the power into the hands of your site visitor and equip them with the ability to designate an instant engagement or set up a conversation at a later date. Conversely, if you and your team feel that it is better to reach out at once, you can attempt to do so by capturing their data before the chat has even started.
Intuitive, personalized landing page chatbots
If you've spent a considerable amount of time and effort creating a brand and voice that is idiosyncratically your own, you are going to want to convey it across your channels and pages. Your standalone landing page chatbot should be no different. Conversational marketing is a tough nut to crack but we like to think that a little 'bot' of effort can go a long way.
Set up your bot with the tone and style that set your business up for success, and incorporate a variety of elements like videos, gifs and links to accentuate what makes you and your services unique and keep your customers engaged above and beyond the point of conversion.
Landing page chatbots with UTM parameters
When you've put your heart and soul into a campaign and geared it for success, keeping track of how it is doing and who is interested in it is an essential component of getting invaluable insight into your output. With our bots' built-in UTM parameters you can do exactly that.
This lets you capture relevant data and know exactly where your traffic is coming from and convert them into either live chats or scheduled meetings with ease. Knowledge is, after all, power.
A/B testing with landing page chatbots
Much like the efforts that go into creating your campaigns, being able to know which aspects of said campaigns are better than others is a great way to focus future efforts and streamline your processes.
A/B testing is becoming more and more essential as the digital world becomes more and more cramped, so having the power to ascertain which individual parts make for a better bot or campaign is a great way to reduce noise and focus on the good stuff.
To do your own testing, simply set up two chatbots with slightly or greatly varying messaging and compare results and engagements generated from both.
---
Create your own standalone landing page or landing page chatbot
Having the ability to customize your campaigns and give them a fighting chance to reign supreme is an invaluable way to ensure less time wasted and more opportunities created.
All in all, chatbots are a great way to add context and create a sense of relevance in the introductory phases of your lead generation. They're also just really fun.
If that isn't enough to sway you, have a look at some examples of our chatbots in action here and sign up for free today to get started on creating your own.
Related topics from Product updates