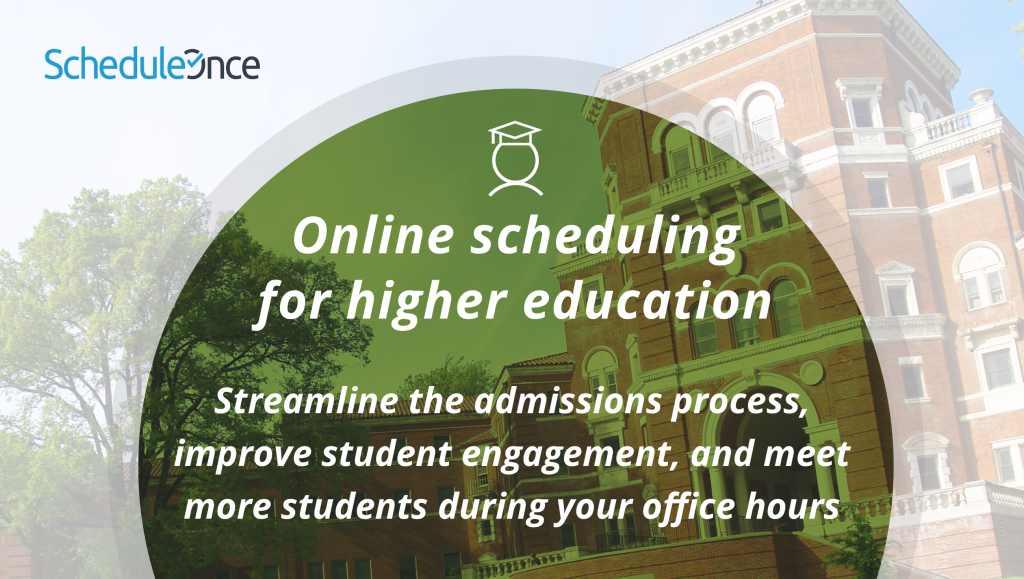 Today, students have more options than ever. They expect faculty members to be approachable and to be able to easily interact with them.
In order to attract and retain modern students, higher education institutions must stand out by using the latest technologies and offering students a way to personally connect with their faculty members.
Online scheduling can be a powerful tool for higher education institutions. It can improve student engagement and the overall education experience for all students, including those with disabilities. For universities, using online scheduling can save a significant amount of time, improve efficiency, and make it easier to effectively connect with both prospective and enrolled students.
Here are some of the top benefits of using ScheduleOnce at universities, colleges, and other academic institutions.
Streamline the admissions process
During the admissions process, your institution is likely evaluating many different applicants. Once you have screened the applications you received, you may need to interview top applicants to move forward with your evaluation. Setting up these interviews can be difficult, especially when scheduling across time zones, juggling different faculty members' availability, and differentiating between interview requirements for freshmen, transfers, and graduate students. With online scheduling, all interviews can be scheduled effortlessly. You can invite applicants to schedule the type of interview they need. Each type of interview has its own settings. For example, your freshman admissions interview may be conducted by any advisor via web conferencing, while graduate studies interviews must be conducted on campus by a panel of different department leaders and professors. Your admissions process will be streamlined and you will leave a great first impression on your top applicants.
Optimize office hours
Each professor has their own office hours to meet with students outside of class. The problem is that professors never know who is going to show up - one week, no students may come, while the next, there may be multiple students lining up to ask questions. With online scheduling, professors can allow students to book a time during their office hours, ensuring each student gets the attention they require and professors know what to expect in advance. Professors can set their availability for office hour appointments, determine meeting duration, decide whether a buffer between appointments is required, and choose how many appointments they want to accept per day or per week. For additional control, professors can opt to approve each booking before it is added to their calendar. If there is an upcoming exam, professors can add extra office hours and allow multiple students to book the same time slot, ensuring professors can meet with as many students as needed. Students will appreciate knowing exactly when they will meet with their professors, and professors will be able to optimize their office hours.
Guide students when they need extra help
Today, education doesn't just take place in the classroom. Students are looking for additional resources to supplement their classes and get extra help from tutors and teaching assistants. With online scheduling, students can easily book tutoring sessions from within your student portal. Students can book single sessions or multiple sessions at one time. This is a great way to gain commitment from students and ensure they get the help they need long term. Tutoring sessions can also be in groups, allowing you to introduce students to others who are looking for help in similar areas and may be great study partners. Online scheduling will make it easier for students to take advantage of the resources your institution provides. You will be able to improve student retention and guide them to their educational success.
This blog post is a sneak peek at our webinar: Online scheduling for higher education. Watch the webinar now