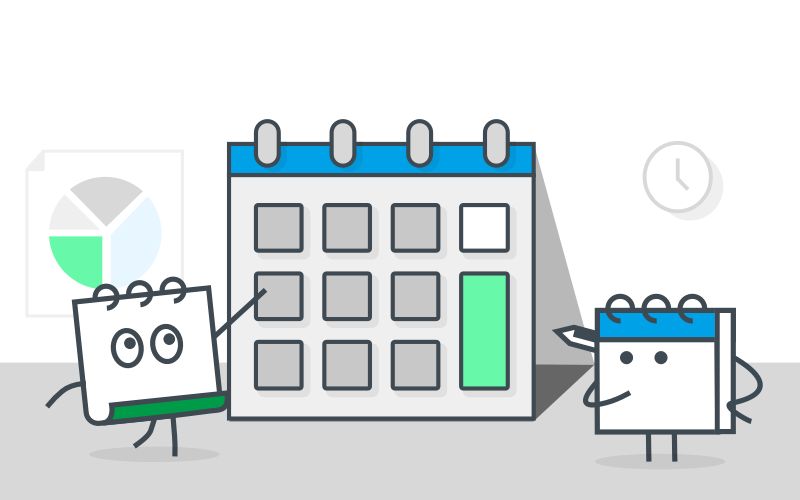 Streamline client meetings with a calendar for financial advisors
In our last blog, we touched on how technology is reshaping the financial planning sector, including scheduling tools for financial advisors. Online scheduling allows financial advisors to keep up with their clients' changing needs and gain a competitive edge.
Financial planning firms and individual financial planners have one thing in common – client meetings. A larger firm might have more complex requirements for setting up meetings than a single financial planner, but both businesses can benefit greatly from using scheduling tools for financial advisors. You can connect with clients faster and make yourself more accessible to potential and existing clients.
Below are a few scenarios illustrating how financial advisors can use online scheduling and appointment booking for client meetings.
Calendar planner for financial advisory firms
A single financial advisor can use online scheduling to be more accessible to both prospects and existing customers. Your scheduling needs are simpler to those of larger firms, so the configuration is easier to set up.
You can use one Booking page for both prospects and existing clients. This Booking page can include multiple Event types and provide virtual or face-to-face options.
Using OnceHub, your Booking page would most likely include the following features:
After you connect your calendar, you can use our simple embed code, button, or widget to add your Booking page to your website. The goal is to make it as simple as possible for clients and potential clients to book a meeting with you.
Get productive with financial advisor scheduling tools
Larger financial planning firms have more complex client meetings and need more functionality from their online calendar scheduling tool than individual planners.
You would most likely use a Master page with separate Booking pages for prospective client meetings and existing client meetings.
The feature set for Booking pages can include:
Let's say a prospect wants to meet with an advisor for an introductory call. They have no existing relationship with the firm and want to chat with the first available team member.
From the Booking page, they are served a choice of meeting type including:
Phone call
Video call
Meeting at location 1
Meeting at location 2
Once the prospect has chosen a date and time, an advisor will automatically be assigned from the Resource pool. You can add your team of financial planners to your Resource pool during setup and determine how leads are allocated.
The benefit of using OnceHub for this scenario is that the configuration and Booking pages will be available to all website visitors. A prospect can simply choose from the options available in order to confirm a booking with your firm. It's quick, simple, and acts as a commitment from a prospective client who no longer needs to search the web for help.
How to choose financial advisor scheduling software
Existing customers already have a relationship with you and know exactly what type of meeting they want to book and who they would like to meet with. For existing client bookings, your firm can use scheduling tools for financial advisors like OnceHub. Both tools serve the same purpose, but in different ways.
OnceHub works with a generic configuration. It only needs to be set up once and you will have a generic link you can share or add to your website. Everyone that books a meeting will use that link.
With OnceHub, you can create a specific configuration for specific meetings. The link created will be a one-time link good for one booking only.
Let's say an existing customer wants to schedule a quarterly check-in at the office closest to their location.
Using OnceHub, you can add the following to your Booking page:
A panel is a group of advisors that need to attend the meeting. Panels are created in your Resource pool during setup. A meeting room in the office can also be automatically included.
Without online scheduling, this type of meeting would involve a lot of back and forth and time spent confirming attendee availability. OnceHub makes it quick, easy, and painless.
OnceHub also allows you to create one-time links that can be personalized for a better user experience.
Now let's look at invites:
OnceHub makes it simple to schedule personalized client meetings quickly.
To create the same type of meeting in OnceHub, you have two options:
Invite to Self-Schedule
Schedule on Behalf
Schedule on Behalf is used to set up a quick meeting while you're on the phone with your client. You would simply need to pick the date and time of the meeting and send on the email confirmation.
To schedule a quarterly check-in meeting with Invite to Self-Schedule, simply select the relevant template from your list. Instead of creating a Booking page, you can quickly set up your configuration as you go. Your client will receive an email invitation with your available time slots.
For financial advisors and financial planning firms operating in the highly competitive and fast-paced digital world, trusted client relationships are more important than ever. Online scheduling helps build this trust by making you easily accessible. It also differentiates your company from others who don't have this capability.
To experience the benefits of online scheduling in your financial business, start your free trial today.
To learn more about this topic, watch our webinar below:
Related topics from Meeting journeys