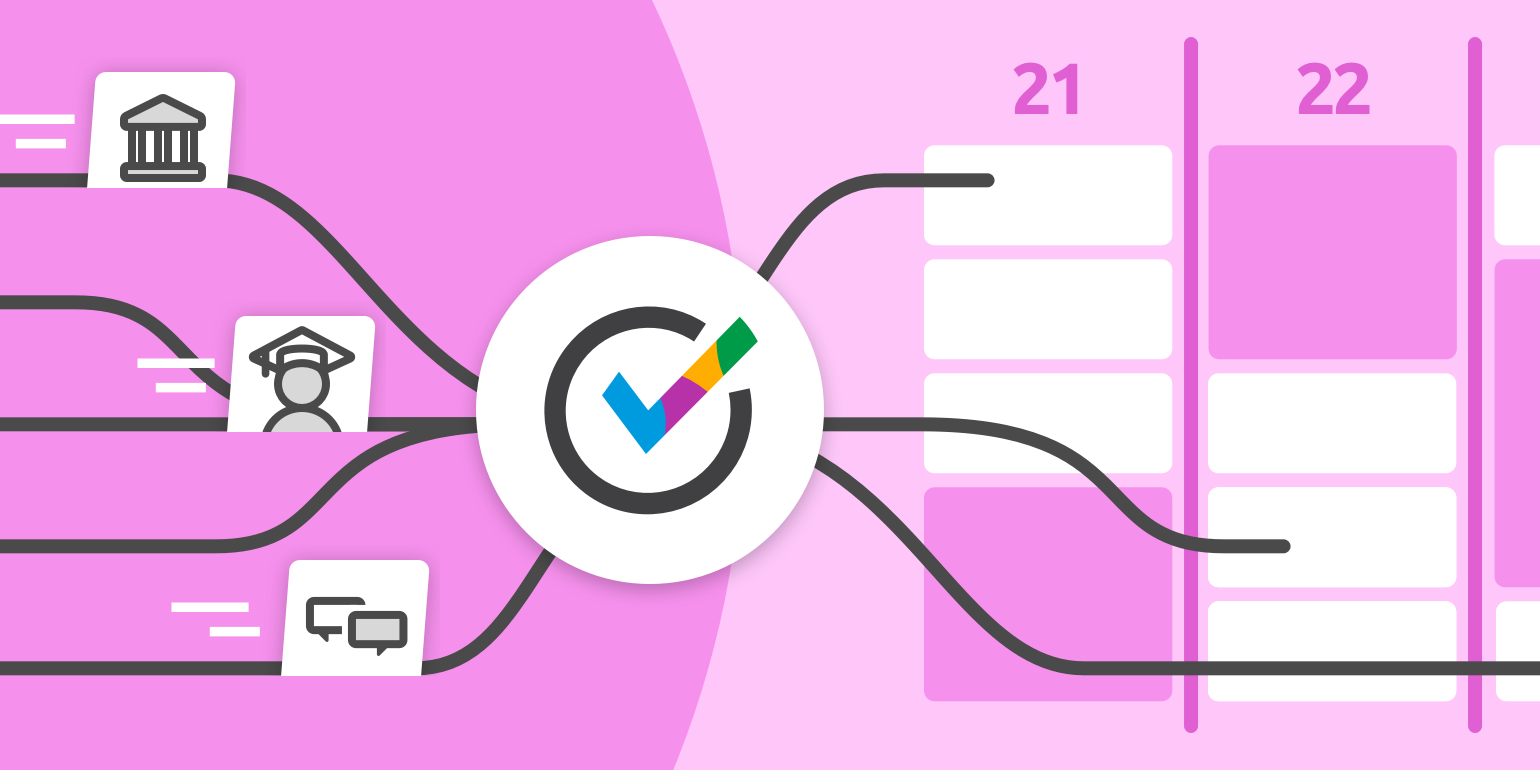 Streamlining Operations and Outshining the Competition: University Scheduling Software in the Education Sector
---
Education is becoming a warzone. In an increasingly competitive space with disruption around every corner, institutions the world over are vying for edge and advantage in a world where incoming prospects seem both slim and too much to handle.
Take admissions, for example. If you or a loved one have ever had the distinct pleasure of filling out form after form in the hopes of being accepted into a tertiary institution, you're probably of the opinion that the process could be described as… somewhat arduous. Now, the people who have to review said applications are of a similar opinion.
On top of admissions, universities and educational institutions also need to cater to the growing demands of the market in order to differentiate themselves in an already overcrowded space. Things like alumni networks, educational counseling and elective value-adds all contribute to and expand the breadth of services that are swiftly going from nice-to-have additions to expectations.
With its intuitive and granular level of control offered, strategic use of OnceHub's scheduling and context creation capabilities can be of great help to institutions looking to automate laborious processes and create sustainable infrastructure to help them engage with their students and assist in their development in an efficient way.
Here's how we think implementation of OnceHub into your organization can help.
---
How OnceHub university scheduling software can improve your admission processes
The admission process is essentially a sales process, and we know a thing or two about sales. By utilizing OnceHub's scheduling capabilities, universities can offer prospective students the convenience of booking admission interviews, campus tours, or information sessions online with the help of university or education scheduling software. This eliminates the need for back-and-forth email exchanges and phone calls, allowing both the admissions staff and applicants to save time and effort. The calendar integration ensures that available time slots are up-to-date and accurate, preventing scheduling conflicts. OnceHub's customization features enable universities to tailor the booking process to their specific requirements, such as setting prerequisites for certain appointments or collecting essential information from applicants prior to the meeting. Our university scheduling software tools empower universities to deliver a seamless admissions experience, fostering effective communication and maximizing the potential for successful student enrollment.
How OnceHub university scheduling software can help you maintain an alumni network
Your network is your net worth, and access to alumni networks and societies are one of the most important parts of the university experience and can help people to forge deep connections and progress in both their careers and personal lives.
OnceHub's academic scheduling software integration with various calendar systems like Google, Office 365, Outlook, iCloud simplifies the process of scheduling and avoids conflicts. Universities can also leverage OnceHub's customization options to tailor appointment types based on alumni needs, such as career counseling, resume reviews, or informational interviews. By implementing OnceHub's scheduling tool, universities can foster ongoing connections with their alumni, fostering a sense of community, facilitating professional development, and strengthening the bond between the university and its graduates.
So by making use of our scheduling system, allowing for different event types and setting up recurring sessions, you can actually automate a lot of the more egregious inconvenient aspects of getting people together and creating opportunities for engagement.
How OnceHub university and student scheduling software can assist you with assisting your students
Service has always been a great differentiator and can mean the difference between a good institution and a great one. All roads lead to service and quality interaction as this forms the basis of our experience with other people and university scenarios are certainly no different. You want to be proactive and responsive with your students but also avoid overextending yourself and your capabilities, which implies there's a need for a bit of intervention so that you can keep your approach and output sustainable.
By using OnceHub university scheduling software as a mediator between you and your students' calendars, you create a healthy boundary without becoming permanently available and can place the onus with the students to create opportunities for themselves to learn and grow from. Scheduling software, particularly the exchange of meeting and calendar links, used to be viewed as something of a slight but the younger generations actually prefer digital precursors that provide them with essential info and, perhaps most importantly, provide them with options.
How OnceHub university scheduling software can help you interact with context
There's a lot of random, unplanned banging on professors' doors at the eleventh hour happening on any given day at university. We have a solution for that. By adding a QR code to said door that leads to your configured OnceHub form and booking page, you can create opportunities for your students to be in the driver's seat in their pursuit of assistance and qualify the session beforehand so you can be as prepared as possible and provide them with the requisite insight, tools or knowledge. At the end of the day, context is everything. So equip yourself with the right tools and equip your students with control over the engagements that will help them to grow and learn.
---
To get started on streamlining the way you and your institution goes about booking time with students and making the most of your scheduled engagements, sign up with OnceHub university scheduling software for free today and automate the processes keeping you from doing work that really matters.