4 min read
Chatbot analytics
Alison Mellon
June 30, 2021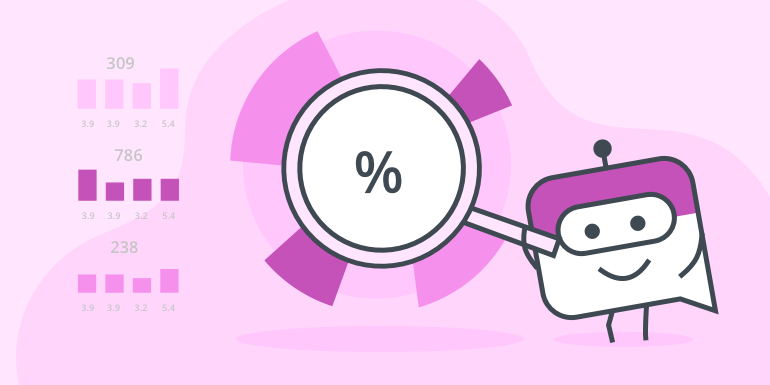 Chatbot analytics is the process of analyzing bot conversations to get customer insights.
With many businesses now using chatbots, including your competitors, customer experience is key. Once you've published your bots your job isn't over. You need to ensure you are consistently delivering the best website experience for your customers.
It's necessary to track how your customers are interacting with your website chatbots. This is important for a number of reasons.
1. Customer experience
Technology has matured, and with it, so have your customers. They are no longer comfortable waiting a few days for responses. They expect instant replies, and the ability to schedule meetings that suit their busy calendars too. Chatbots are easy to implement, with many affordable, low-code options available. Your competitors use chatbots to offer a seamless, personalized experience to their customers. It's important to provide top quality experiences throughout your customers' journey.
2. Customer insights
You can use your chatbot analytics to map popular customer paths, actions, and exit points. You're able to analyze real data from real customers. This will help you to better understand your real customer journey. Real as opposed to assumed customer journey.
3. Goal focus
You can use chatbot analytics to track relevant KPIs. This allows you to make data-driven, customer-centric decisions to improve your customer journey. Keeping an eye on the chatbot analytics allows you to focus on optimizing the right metrics.
How do you measure the success of a chatbot?
If you've built and published a chatbot then you need to understand chatbot analytics. Analyzing these metrics will help you to see where your bots are performing well, and where there is room for improvement.
At its most basic level, there are the top three metrics you should be tracking.
Conversations started
Conversations completed
Conversations abandoned
With ChatOnce we are interested in two additional metrics:
Meetings booked
Emails captured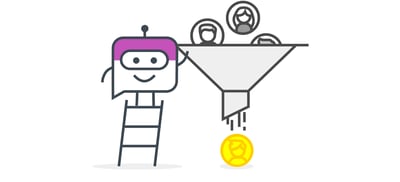 Chatonce chatbot analytics
Conversations started
This refers to the number of visitors who engaged with your bot. These visitors respond to your chatbot at least once. You can compare this to the number of visits your website page gets. Use a tool like Google Analytics to work out the percentage of page visitors who engage your bot. Also keep in mind that low volumes of conversations started isn't necessarily a bad thing. Remember that your chatbots should be supporting the content on the page they appear on. Perhaps some of your customers don't need to engage with your chatbot. Instead, look at the metric over time. Look at peaks and dips. Make educated decisions based on the information you gather.
Conversations completed
This refers to the number of visitors who reached the end of your bot's conversation. It's a good idea to look up these leads and see if they converted into paying customers. Alternatively, if conversion isn't the goal, dig deeper to see if the lead is happy at the end of the conversation. Or, do they reach out to your support team by email because they didn't find what they were looking for from your bot?
Conversations abandoned
This refers to the number of visitors who engaged with your bot, but didn't complete the conversation. It's a good idea to dig into where people typically drop off during conversations. Is it because they received the answer they were looking for, or is something distracting them? Are they getting frustrated and abandoning the conversation? Again, high numbers of abandoned conversations isn't necessarily bad. Your bot may have given them the response they were looking for, and they don't need to engage any further.
Meetings booked
This refers to the number of visitors who booked a meeting through your chatbot. ChatOnce works with ScheduleOnce to schedule meetings with qualified leads. This is a very important metric if the goal of the chatbot is to schedule meetings with leads.
Emails captured
This refers to the number of emails captured by your chatbots. These could include qualified leads who booked a meeting, but may also be leads who didn't qualify for a meeting. This metric is a great way to gauge interest in your business. Only interested visitors are likely to share their personal details with your chatbot.
Be successful!
Measuring success isn't straightforward. Success has different meanings for different companies. There is no magical answer, or surefire way to ensure chatbot success. Nobody knows your business better than you do. Nobody understands your customers better than you do. Therefore, you are the most qualified person to know what chatbot metrics are important to track and analyze. Start with the basics, see what your customers are doing, and optimize from there. Remember that we refer to the customer journey, not the customer destination.
Check out our playbook, The Essential Guide to Getting Started with Chatbots for some tips, tricks, and inspiration.