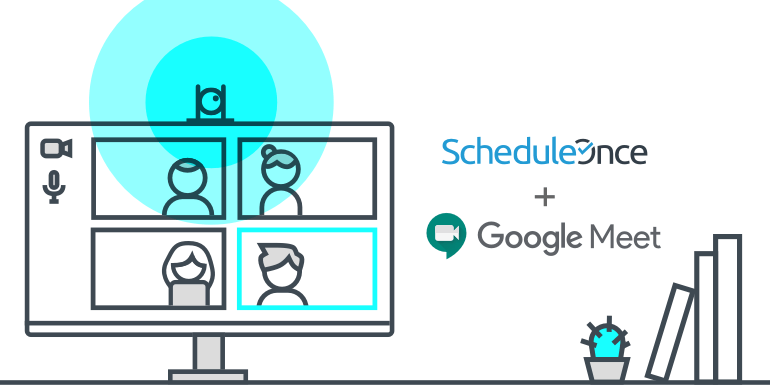 Over the past few months, we have seen how video conferencing has transformed the way we do business, and keep the wheels of the economy turning during this fragile time. With this in mind, we have been working on expanding our video conferencing support at OnceHub.
Last week we released expanded support for Webex Meetings, and this week we are pleased to announce our new Google Meet integration.
Google Meet is Google's premium video conferencing platform, which is a secure and reliable video conferencing solution that's trusted by schools, governments and enterprises around the world. It is now available to anyone with an email address and provides many of the same features previously only available to business and education users, such as screen sharing, real-time captions, and layouts that adapt to your preference, including the popular expanded tiled view. Google Meet also operates in the browser, so there is no software to install and set up before hand.
Google builds their products on a secure foundation, from the ground up. They provide many controls for the host to manage the meeting. In addition, Google is always keeping an eye on industry standards for privacy and security. They encrypt meetings in transit and their meeting codes are complex, protecting you against uninvited guests.
If you use Google Calendar, you are connected to Google Meet by default. To start using it for meetings, simply configure the location settings in your booking page. Configuring your Booking pages to use Google Meet
Google Meet integration features
Automatic scheduling of a Google Meet session
ScheduleOnce automates the creation of a Google Meet session whenever a customer makes a booking. Each booking is assigned its own unique Google Meet session, ensuring each of your customer meetings remains completely private.
Support for all meeting types
Regardless of meeting type, our Google Meet integration can handle it all. For one-on-one meetings, a new Google Meet session is created, whereas with group sessions, each customer receives the same Google Meet session details. With session packages, a unique Google Meet link is created for each session.
Integrated notifications
Video conferencing information is an integral part of all ScheduleOnce notifications. When a booking is made, users and customers will receive one confirmation that includes Google Meet meeting details. This provides a professional image to your customers, who receive all meeting details in one place.
Support for canceling and rescheduling
If a booking is canceled or rescheduled, ScheduleOnce automatically makes all necessary changes to the Google Meet session. If a meeting is rescheduled, ScheduleOnce updates your users and customers with new Google Meet session details, ensuring all relevant parties have the latest information.
Access to conference connection settings
Google Meet video conferencing settings can be configured right from within your ScheduleOnce account. This simplifies setup, and allows you to seamlessly receive bookings for your virtual meetings.
Secure OAuth connection
ScheduleOnce uses the OAuth protocol to establish a secure connection with your Google account. Through this connection, you are integrated with both Google Calendar and Google Meet. Users can connect to Google Meet without sharing their Google account credentials with ScheduleOnce, ensuring the highest level of security.
Scheduling Google Meet sessions through ScheduleOnce, you'll enjoy all the protections both OnceHub and Google prioritize to keep your meetings private and secure.