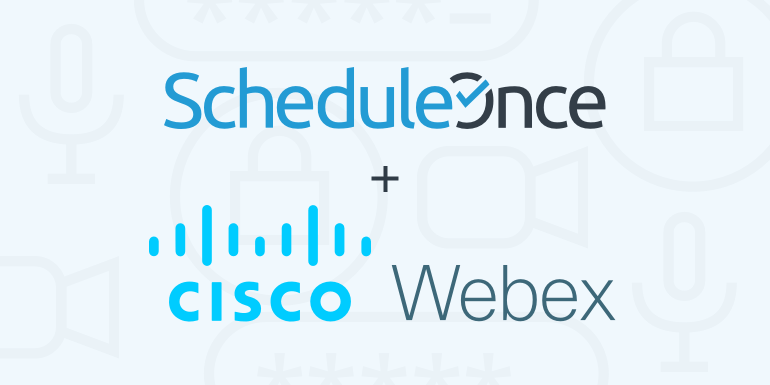 Webex is known for building first-rate enterprise security and privacy into its application, making it a perfect option for organizations where compliance is a top concern. Now scheduling Webex Meetings is even easier with our expanded native integration.
How to schedule a Webex meeting with OnceHub
We first integrated with Webex back in 2014, but until today, our native Webex integration was limited to one account type.
Now all Webex plans, including their free plan, can connect and benefit from a seamless scheduling experience with unique meeting IDs and password automatically assigned to each scheduled booking.
Getting started:
You'll need a Webex Meetings account with authenticated user name and password
Connecting only takes a minute.
A more secure solution for scheduling Webex Meeting Plans
In past, many Webex users configured their accounts to provide a static link to their personal room instead, like: https://mysite.webex.com/meet/myname
To protect your meetings, we recommend stopping this immediately. It may be simpler to share a personal room link, but that opens a huge vulnerability for uninvited guests.
Instead, you should integrate with the native integration. Each session needs its own meeting created, with its own meeting ID. If you're using OnceHub's native integration, you don't need to sign into Webex, create the meeting, and send a separate email with conferencing information. Upon each booking, OnceHub's automatically creates a meeting in your connected Webex Meetings account. Stakeholders receive all conferencing information in the booking confirmation notification.
Note: Once you have a unique meeting ID, be sure only to share the conferencing information with those you want to join. Many make the mistake of including a joining link on publicly available posters or websites. This increases the risk of an insecure meeting.
How does the OnceHub's connector work for Webex free plan meetings
Once connected to the Webex integration, all relevant bookings automatically create video sessions with unique meeting IDs and passwords, ensuring a secure and private meeting experience.
Both one-on-one and group sessions supported, as well as session packages.
Your customers receive one booking confirmation with all required information.
Built-in support for cancellation and rescheduling. When a booking is canceled or rescheduled by the customer or the user, OnceHub's automatically updates your Webex account with the necessary changes
For any questions, please don't hesitate to ask our team.